As we all know a bedroom is a place where you have to feel comfortable and cosy. The most important things are good sleep at night and comfortable waking up at the beginning of the day. Too much heat from sunlight or lack of privacy is not an option and this is why you need solid and timeless solutions for your place. One of them is window blinds to cover your bedroom window. Let us show you tips, trends and inspirations for your bedroom blinds.
Bedroom is a place where the right amount of sunlight and privacy is a must to ensure a smooth and comfortable sleep
Selecting the right bedroom blinds will be a solution for the desired mix of privacy and sun control
Check venetians blinds from natural materials like wood and bamboo or metallic and PVC slats from aluminium and faux-wood. Wood and bamboo are great materials for window coverings which will make your bedroom look stylish and elegant while making you feel surrounded by nature and cosy
Each product in our online shop is a fully made-to-measure product with many customization options. You can customize perfect blinds for your bedroom windows to match any interior style!
Wooden blinds for modern bedroom
If you are looking for the perfect window coverings, you should check venetian blinds. First, we present wooden blinds made from real wood. They are great if you are looking for quality and stylish products. Their properties assure you control of the daylight in your room, which will allow you to have good sleep and a comfortable wake-up in the morning.
Wooden blinds are one of the bestselling window coverings as they are natural and make the rooms warm and cosy. They can fit very big windows – we offer wooden blinds up to 360cm wide for selected colours. Wooden blinds make the room look stylish and elegant and have a timeless design.
If you are looking for an exclusive and unique product, check out our Abachi collection. Blinds are made from African Abachi wood which makes them very good for high sun exposure. Natural and exclusive blinds from the Abachi collection will be a perfect match for every bedroom!
Thanks to their natural design, wooden blinds will fit into many types of interiors (Scandinavian, modern, industrial). Our extensive collection includes products with various slat widths (27mm, 35mm, 50mm, 65mm) and customisation options. We give you access to extra additions such as cloth tapes, different types of valance or a wide selection of colours – all just to allow you to create perfect blinds for your bedroom.
Aluminium blinds for modern bedroom
Looking for solid blinds that are good value for money? Then check our made-to-measure aluminium blinds, which are a popular choice for any type of interior. Thanks to vast customization options you can adjust them for your room and make them unique to your interior.
You can select from up to 49 different colours, adding wooden valance, side guiding or plinth – which are only some of the extras we have in our offer. Their main disadvantage is that the design is not as cosy and warm as, e.g. bamboo or wooden blinds – after all, aluminium is not a natural material like wood.
Bamboo blinds for modern bedroom
Bamboo blinds are one of the bestsellers – and they are a great fit for the bedroom interior. They are not only a natural window covering for your bedroom but also a great window decoration enhancing the design of your room. Sunlight control and their design will give you calmness, warmth and comfort in the bedroom – things which everyone is looking for. Bamboo blinds are one of the favourite products of our customers!
Slats of bamboo blinds are thin and have a matt finish. A great advantage of bamboo horizontal blinds is their design, matt material as well an extensive choice of collections (35mm, 50mm, 65mm plus RETRO types) and extra features within these collections like cloth tapes. Bamboo blinds are available up to 300cm wide for 50mm and 65mm slats, making them a great pick for bigger windows. If you need natural and durable bedroom blinds, pick blinds from natural bamboo!
Faux-wood blinds for modern bedroom
Made from PVC slats faux-wood blinds are durable and moisture resistant. This can be a good choice if you are looking for a durable product with a natural accent. Faux-wood blinds can be a good solution for every size of the window even the large ones.
You can select many customisation options and also check our special CEDRO collection. CEDRO faux-wood blinds are being made from PVC slats but are distinguishing thanks to the wood-looking slat design with grains.  Remember that although faux-wood blinds have natural look, they do not give the same stylish effects as wooden or bamboo blinds.
Wood-effect blinds are another good but more budget pick for your bedroom. Besides wood looks, they also guarantee durability and performance. Although it assures more durability and is cheaper, it is not a natural material and therefore does not provide much warmth to the interior.
Custom-made blinds for modern bedroom
If you are looking for other options for bedroom blinds you can select from such products as vertical blinds, curtains or roller blinds. Please remember that these products don't have so many customisation options as venetian blinds.
They will also be problematic to fit into some windows. That's why you should first of all check the venetian blinds offer for your bedroom blinds. If you will have any questions you can ask us through email or social media channels.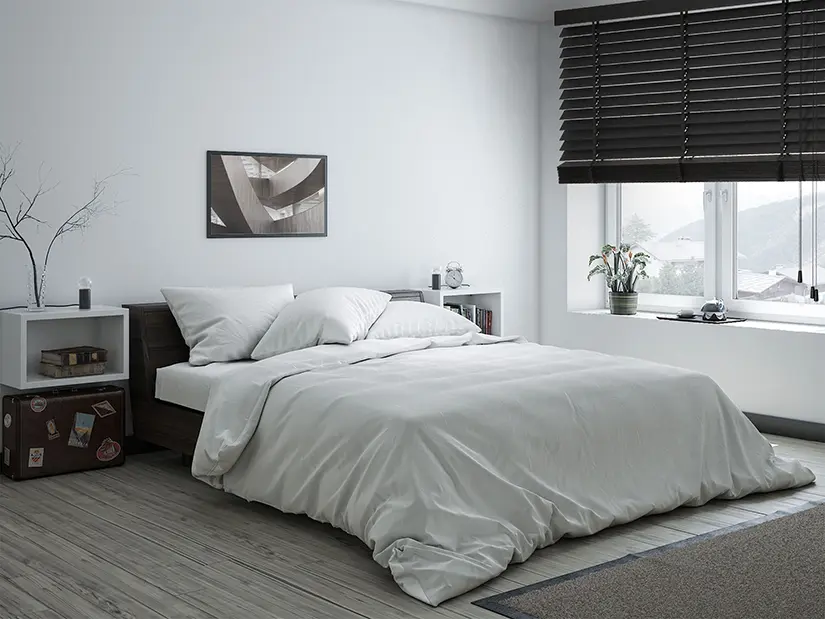 Blinds sizes
Thinking about buying venetian blinds but you do not know if you will find the suitable one for your window? ClickforBlinds offers numerous slat sizes (35mm, 50mm, 65mm and others) and you can configure blinds with any width, whether it is 80 cm, 90 cm, 100cm, 110cm, 120cm or even up to 360cm for wooden collection or 400cm for aluminium!
Do you have a wide window (over 240 cm) and cannot find the right product? Don't worry, we offer XXL wide horizontal blinds which will look great in your windows. Our bamboo collection, despite standard max width of 270cm, can also offer widths of up to 300cm for selected colours, e.g. black, white, pearl white, wenge and anthracite.
The maximum width of the wooden blinds varies depending on the colour. Natural colours are available in max width of 270cm but a majority of the collection could reach 300cm width. Selected colours (white, black, anthracite and many more) are possible in 360cm width – a great solution for very wide windows which can make the whole room unique!
Advantages of bedroom blinds
As we all know good sleep guarantees a good mood for a rest of the day. Thanks to using bedroom blinds your wake-up won't be disturbing but energetic and comfortable. It is the effect of a controlled amount of sunlight in the morning with your blinds. An extra advantage will be protecting your bedroom from overheating although you must remember that internal window coverings would never give as much overheating protection as external products. Horizontal blinds are great for bedrooms due to allowing for a compromise between privacy and how much sunlight gets into the room.
Modern bedroom blinds – trends and inspirations
Interior trends for 2022 include natural colours and textures for interiors. Wooden and bamboo blinds are the favourite product of customers throughout Europe – as they give everything you may want from the window covering.
Black, white and natural wood colours are especially popular in recent years among our customers – and we fully understand why. Natural materials have gained popularity as they provide unparalleled look and design. Bedrooms with wooden or bamboo blinds are great to be in and make people feel calm and cosy. White and black are timeless colours and they fit practically any type of interior.
Check inspirations for bedroom blinds available below. Remember that our products are fully made-to-measure allowing for a high degree of personalization – our blinds work well with every type of interior, from modern houses with large and wide windows to more classic or Scandinavian houses and apartments.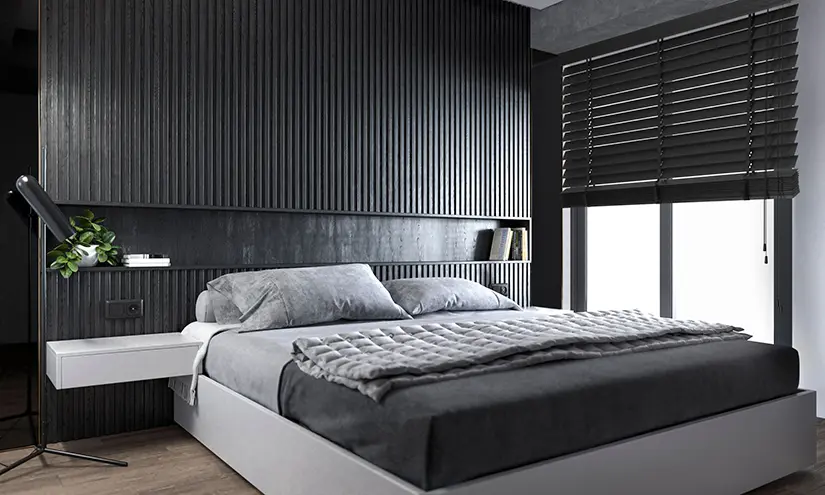 Other window coverings for the bedroom
Venetian blinds are not the only option if you are looking for a window covering for the bedroom. Depending on your needs you can choose other types of window coverings. Check below what different window covering you can choose for your bedroom blinds.
Vertical blinds
Vertical blinds are suitable for living rooms or offices. Thanks to the possibility to prepare very large sizes you can find them in many places. They also enable easy control of light while providing intimacy. While they sound like the perfect solution for bedroom blinds you have to check their disadvantages.
First of all, there is noise which will come when vertical columns will collide in a swinging motion. This can also happen when you will have your window open or a fan working in the bedroom. Swinging motion is not also good if it happens constantly, opening and closing frequently vertical blinds can lead to a loss of product quality.
Roman blinds
Roman blinds are applicable in many interiors due to their versatility. Made from fabric or bamboo you can choose them as stylish window coverings. What's important is they work best when used on big windows.
Their biggest disadvantage will be their simple open/close system. You can only put them up or down, when you put them up everybody can see what is happening in your home, when you put them down you won't have much sunlight.
Pleated blinds
Pleated blinds are well known for their unusual design. Their possibility to open and close from above or below gives a fresh accent to your interior.
The only disadvantage can be higher price and later caring of pleated blinds. Their big con will also be a lack of insulation, especially during winter with cold temperatures.
Roller blinds
One of the common window coverings for many rooms are roller blinds. Thanks to the low price and easy-to-use open/close system they are a popular choice. Roller blinds are a budget option for window coverings.
Fewer customisation options and worse sunlight control than venetian blinds are only some of the disadvantages. Roller blinds also are not destined for narrow or shaped windows.