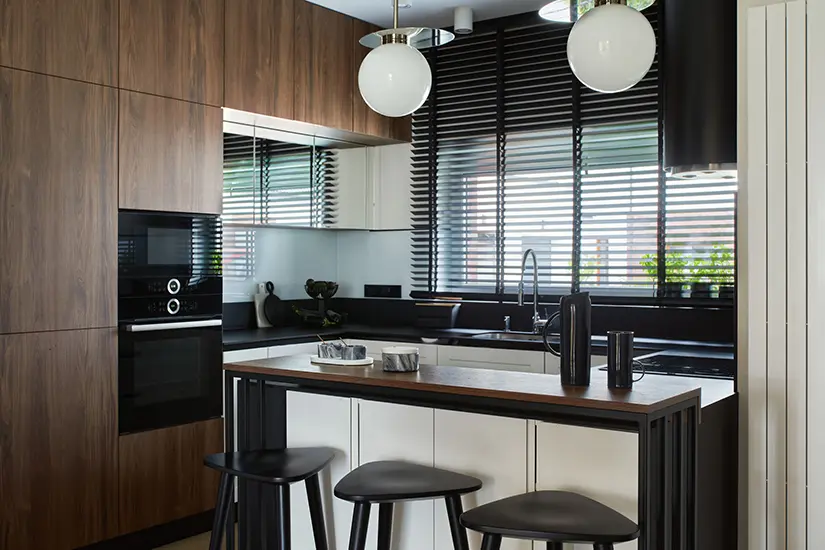 Cooking, eating and dining? That must be the kitchen often described as the heart of the home, which is one of the most exploited interiors in every home. The kitchen must look nice and stylish while being practical to use. It is nice to dine in a great interior, therefore it is important to choose the right window coverings for your kitchen windows to make the room warm and cosy.
Window covering is an important part of the design of each room. Moreover, if you pick the right kitchen horizontal blinds they can be also window decorations, preventing overheating and letting the sunshine into your kitchen. All this is possible while maintaining the right level of privacy.
Kitchen is a place where family and guests spend time cooking and dining. Ensure privacy and adequate sunlight while remembering about design, warmth and calm atmosphere in the kitchen
The best solution for every kitchen are venetian blinds, which are made from natural materials and can provide long-time and undisturbed performance. They cover your windows while providing shade and an adjustable level of privacy
Select customized blinds made from natural wooden and bamboo blinds or artificial like aluminium, faux-wood or wood-effect
Each of the venetian blinds will make your kitchen stylish and unique. You can fully configure all our made-to-measure blinds to match the interior of your kitchen – whether it is a modern kitchen, Scandinavian, classic or any other style!
Wooden blinds for modern kitchen
Venetian blinds are one the most popular window coverings. We begin with wooden blinds which are a modern and attractive idea for the kitchen. They are made from real wood which assures quality and are great for any interior style from modern houses to Scandinavian kitchens. Wooden slats give a warmth and exclusivity feeling – after all, they are fully natural.
Although wooden blinds are one of the bestselling products providing comfortable sunlight control they are not suitable for windows above sinks. Wooden blinds do not perform well in humid and wet environments and they would be less durable in case they have frequent contact with water. In other situations, however, wooden blinds are a great choice and would make your kitchen stylish and elegant. You can customize wooden blinds fully in line with your requirements – we offer numerous slat sizes (27mm, 35mm, 50mm, 65mm) as well as multiple collections like Abachi, Rustica or Select.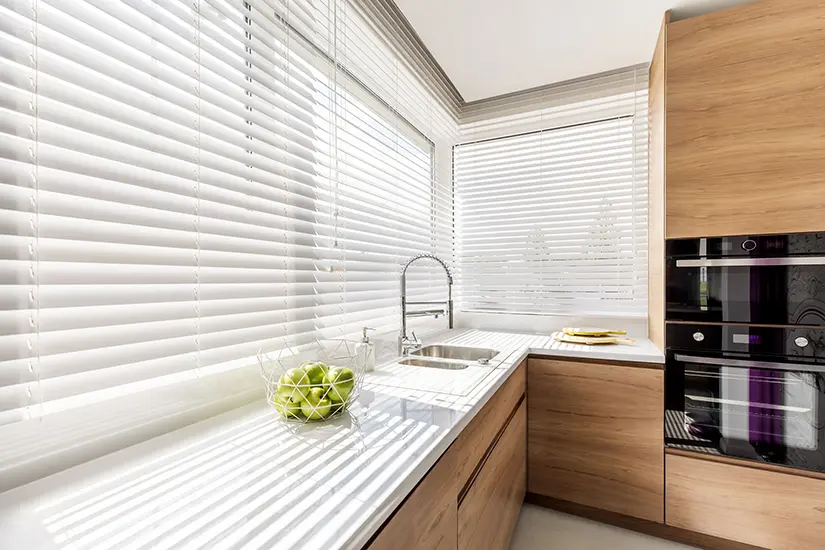 Aluminium blinds for modern kitchen
One of favourite picks for every kitchen are aluminium blinds. Thanks to water and humid resistance they are a perfect match as kitchen blinds, especially when the blinds are located near the sink with a lot of water exposure.
Slats are made from aluminium and all our aluminium blind collections are full made-to-measure window coverings. We offer various customization options (slat widths, cloth tapes). They are also easy to clean from grease which makes them one of the favourites as cheap and high-quality kitchen blinds.
Bamboo blinds for modern kitchen
Looking for natural and durable blinds? Check our bestselling bamboo blinds collections. Water and humid resistance make them a good fit for every kitchen. Slats of bamboo blinds are thin and have a matt finish.
Thanks to wide colour and slats width selection you won't have a problem adjusting them to every interior. You can select from many collections (35mm, 50mm, 65mm slat sizes, Retro collections) and fully customize it with extra features such as cloth tapes, side guiding or plinth. You don't have to worry about lack of privacy or too much sunlight in your kitchen thanks to an easy and functional open/close control system.
Bamboo blinds have an exclusive and natural look – they gained popularity across European markets in recent years due to their high-quality design and attractive prices. If you want to make your kitchen special check our bamboo collections!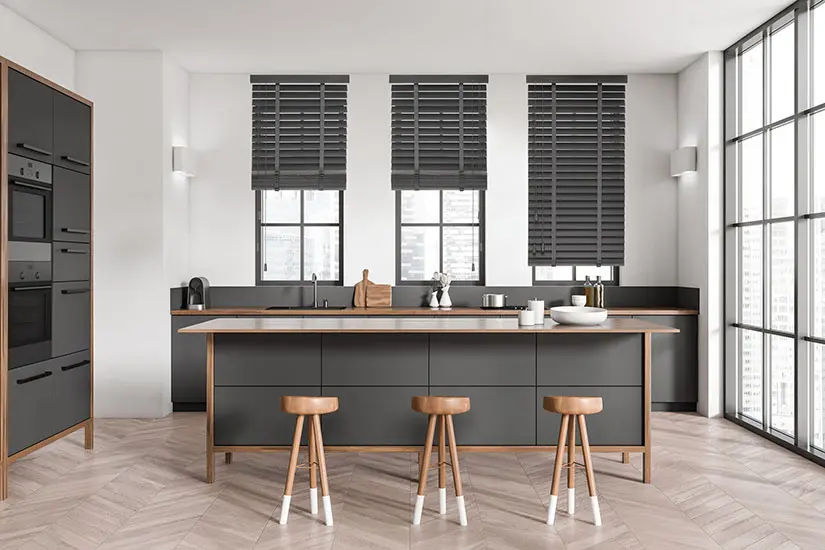 Faux-wood blinds for modern kitchen
Another good fit for a demanding kitchen are faux-wood blinds. Made from PVC with a wood grain design will be a perfect match for most of the interiors.
Humid and water resistance are their main advantage. They connect durability with the look of wood. What is important to remember, is that they won't same stylish effect in the kitchen as bamboo or wooden blinds made from natural material.
Wood-effect blinds for modern kitchen
Wood-effect blinds also make a perfect match for every kitchen. Waterproofness and humid resistance from aluminium and style from a wood-like design make them worth checking out. Of course, like every venetian blinds, they offer easy and effective control of how much sunlight you let into the kitchen.
Thanks to vast customisation options you can make a fully make-to-measure product for your interior. They are cheaper than bamboo and wooden blinds, but they don't give the same natural effect in your kitchen as them.
Custom-made blinds – a suitable choice for the kitchen
Choosing made-to-measure blinds for the kitchen will ensure sunlight control and assure privacy during cooking or dining. Thanks to vast customisation options (slats width, cloth tapes) you can have window coverings ideal for every window and matching your interior style.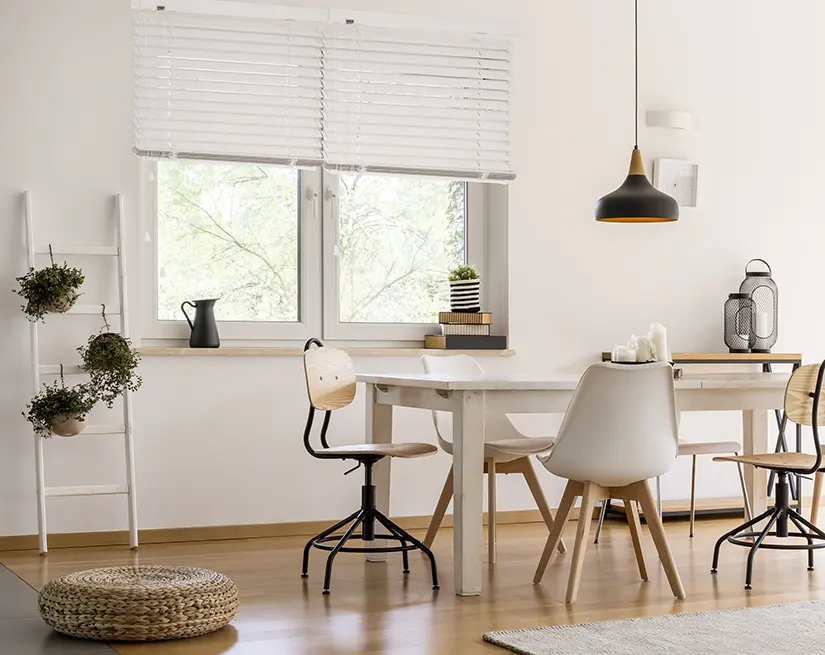 Popular blinds sizes
Need venetian blinds for small, narrow or big windows? Check ClickforBlinds as we offer a vast selection of blinds collections, colours and additional features. You can pick slats width sizes (35mm, 50mm, 65mm and other ones) and much more.
We have got popular sizes like 80 cm, 90 cm, 100 cm, 110 cm and 120 cm but you can order much wider blinds. Thanks to our experience we also offer great solutions for very wide windows – up to 360cm for wood blinds and even up to 400cm for aluminium. You can order nearly 300 cm in width bamboo blinds for selected colours. Wooden blinds which are bestsellers can be produced even in 360 cm in width for colours like black, white and more.
Advantages of having blinds in your kitchen
Stylish part of the interior design
Natural and elegant look
Privacy control during cooking, dining or just having a morning coffee
Resistance to moisture
Sunlight control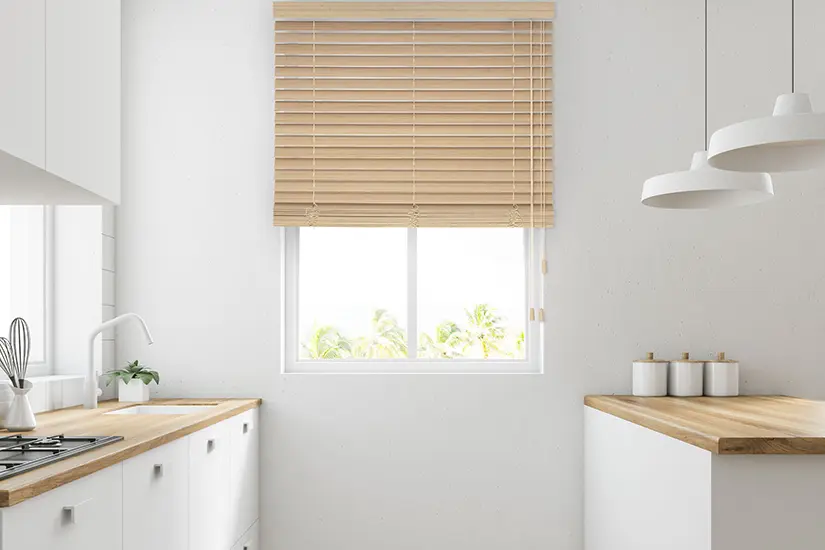 Modern kitchen – trends and inspirations
Of course, the kitchen should not be only a useful and warm place for family and friends but also a stylish showcase for guests. Fortunately, window coverings in the kitchen can be also a great window decoration adding style and elegance to the whole room. But how to choose the right blind which will perfectly match the interior?
Check some of our inspirations, but what about the trends for the modern kitchen? 2022 is the year of natural accents, wood finishes and playful colours. Our venetian blinds meet these trends, let us show some of the inspirations to consider before future purchases. Black, white and natural colours are most popular for wooden and bamboo collections – they are timeless and fit every type of interior.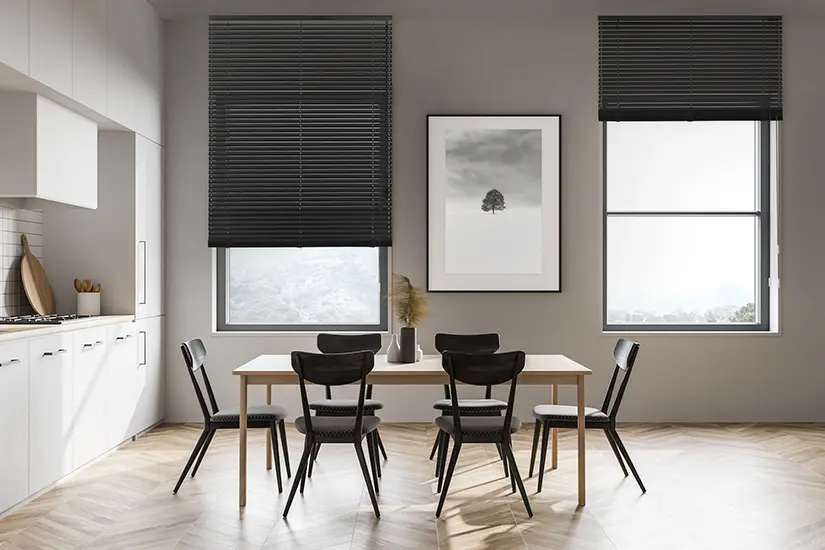 Other window coverings for the kitchen
There are other window coverings for the kitchen than venetian blinds. Roller blinds, roman blinds or maybe pleated blinds are the solution that you are looking for? We present some of them, which are also available in our shop. After reviewing them, you may be closer to making a final decision.
Roller blinds for modern kitchen
Roller blinds are one of the most popular window coverings. Thanks to their easy open/close system and low price they can be seen in many interiors. But their main disadvantage will be easiness to collect dirt and grease. That won't be easy to clean and it's even possible that it will lose quality after a short period.
Vertical blinds for modern kitchen
Looking for another solution as window coverings? Check vertical blinds which are a stylish and timeless product for your kitchen. Remember that they won't also be easy to clean. In a demanding kitchen, they may also have a short lifeline. Vertical blinds would also not be a great solution for small windows.
Roman blinds for modern kitchen
If your windows are not so close to the sink or oven you could think about roman blinds. A lot of colours and patterns can make your kitchen more luxurious. Their main disadvantage is of course grease and dirt that will be hard to clean as they are not moisture resistant. Therefore, they are not a great solution for kitchen windows but would be a nice addition to dining rooms.
Pleated blinds for modern kitchen
Classy and unusual blinds for the kitchen? Pleated blinds can be the answer to your needs for kitchen blinds. They will help to keep privacy during cooking or dining, but their lack of humidity and water resistance can be a disadvantage, especially above the sink. Cleaning is also a disadvantage because of the fabric material.