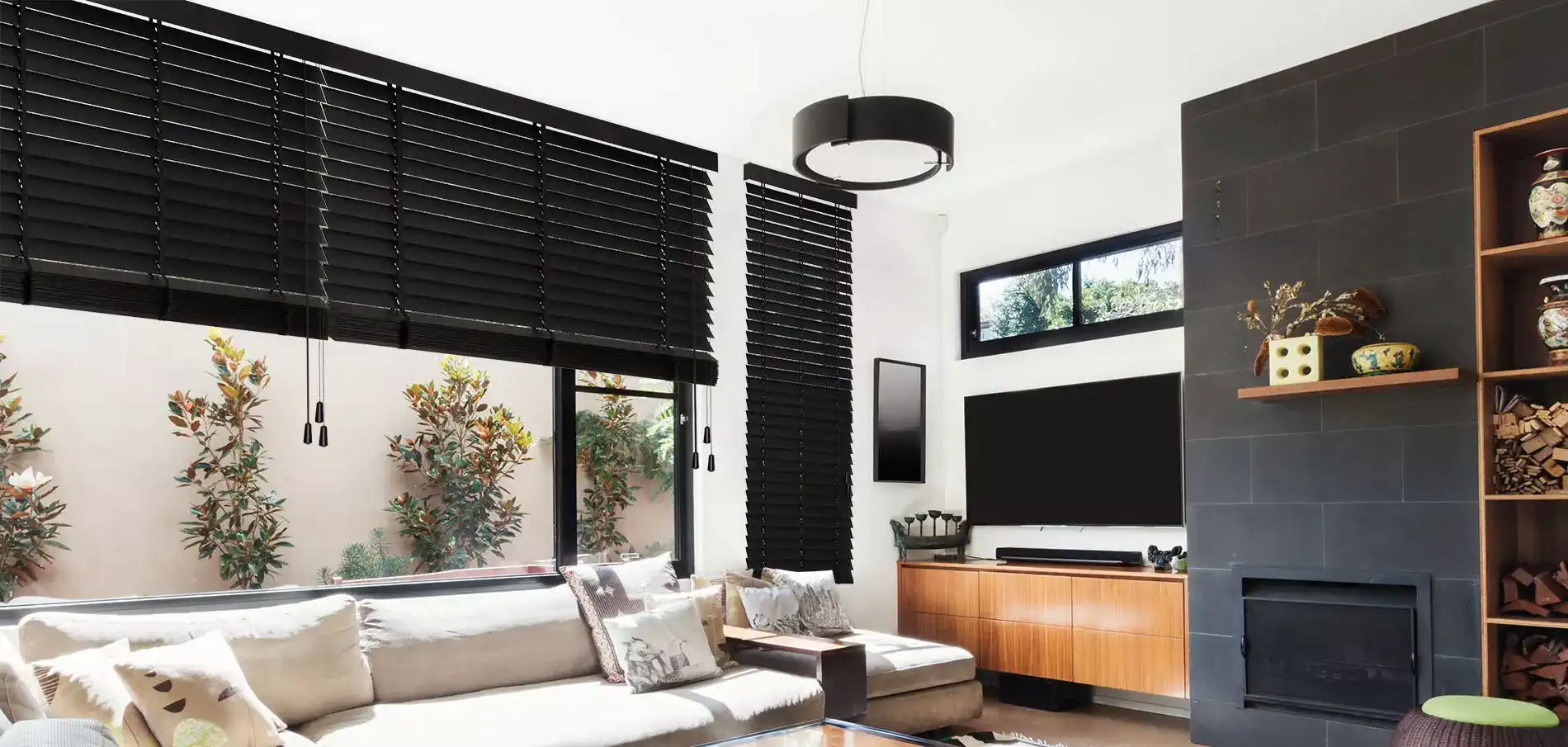 How to pick the right blinds for your home? Is it better to choose something trending or go for more original solution? Check inspirations, latest trends and tips for the window horizontal blinds. However, certain solutions are timeless. One of the timeless products are black and white blinds. Let's check why these are popular and in which rooms and interior designs you can use them. It may be surprising that they will fit well to numerous interiors – more than one could expect.
Looking for great blinds to put in your windows but you do not know which one to choose? Pick black or white blinds as they are most popular products over the years. Their unique and elegant design makes them a frequent choice for many interiors and they will ensure timeless design and never go out of fashion.
With a lot of advantages black and white slat colours are available in every type of window blind. It will help you match desired material (bamboo, wood, aluminum, faux-wood) with the right colour like black, white or any other.
Select the right type of black and white blinds. For example, pick venetian blinds for sunlight control and privacy assurance. Universal character is another advantage – they will perfectly match many interior styles.
Why are black and white the most popular colours of blinds?
Classic, timeless and popular blinds? Black and white blinds are selected because of their classic and exclusive design. They also assure privacy and offer sunlight control, which helps with preventing overheating. Thanks to being made-to-measure products, they have a lot of customisation options. You can select slats width, colours, cloth tapes and many more. Thinking about black or white blinds? Let's begin our search for perfect black or white blinds!
White blinds – pure, clean and peaceful
Pick white blinds which will deliver a classy and stylish accent to your interiors. As one of the most popular colour picks you can find them, for example, in the Scandinavian type of interior and many more. Their advantage is also making your room more spacious. If you are thinking about which blinds will assure privacy and sunlight control – pick venetian blinds. Select blinds from wood, bamboo, aluminium or PVC in white colours and configure made-to-measure products which will be a perfect match for any room. They are also a good choice if it comes to cleaning. They also don't need much care as dirt is not as visible as in bright colours. 
Black blinds – modern, classy and elegant
Black blinds will be great window decorations for your interiors. Thanks to being a timeless choice, you won't have problems with picking the right black blinds to be a perfect match for your home or office. Thanks to their colour they will provide privacy. Sunlight control will not be a problem if you pick black blinds. Black wooden blinds are a great choice for any type of the interior – from modern to Scandinavian and classic interiors.
Which types of black or white blinds would fit the best?
White and black wooden blinds
Looking for convenience, stylish products and the best quality? Pick black wooden blinds 50mm (or 27mm, 35mm or 65mmm – we have many collections for black and white wooden blinds!) made from real wood which are one of the bestsellers. Thanks to the natural design they can be put in every interior. Adding sunlight control and assuring privacy is the perfect choice for your home or office. White wooden blinds 50mm will be a great solution for the interiors and make the space nice and bright. White abachi wooden blinds is an exclusive choice – check on our website how they would look like. Many people choose white and black wooden blinds as they fit well into every interior.
Make your perfect blind with many customization options in the configurator, including slats width, colours, cloth tapes and much more!  If you are looking for something special for your interior check the special collection Abachi made from African abachi wood. Black abachi wooden blinds would be an amazing addition to your interior – exclusive look and natural character of the wood. White wooden blinds will also be a perfect match for bedrooms, living rooms and offices!
White and black bamboo blinds
Best-selling, natural and long-time performance? Black bamboo blinds are a perfect solution not only as a window covering but also as a window decoration. Their slats are slim and thin but strong with a great matt finish. Black bamboo blinds are the bestseller – finished with matt black colour makes them look elegant, modern and classy – all at the same time. Black bamboo horizontal blinds are a very good pick for living room, bedroom and office. White bamboo blinds would also be a great choice – they are one of the bestselling window coverings for many years already.
Additionally thanks to their properties white and black bamboo blinds will also work well in every environment, even in a wet and humid bathroom or some kitchens. Check special collection Retro with 11 colours (including black, white, pearl white, off-white, anthracite) with a lot of customisation options like cloth tapes, bottom rail fixing and plinth.
White and black aluminium blinds
If durability and non-disturbing performance are a must, then pick white or black aluminium blinds. They are very popular in many houses and offices thanks to their long-time running time and moisture resistance. Black aluminium blinds are a very good pick with vast customisation options such as cloth tapes or slats width – we offer numerous shades of black aluminium 50mm blinds: carbon, carbo express, black matt, black matt perf and classic black. Black and white aluminium blinds are a perfect choice for kitchens and bathrooms.
White and black faux-wood blinds
Blinds with slats made from PVC with a look of the wood grain. Durability and the element of nature in design make them a good choice for many interiors. They are a very good value for money product, but although they have a wood design, it does not give the same natural effect as real wooden or bamboo blinds.
Custom-made black and white blinds – trends and inspirations
Black and white blinds are a timeless and most popular solution for interiors, bringing them into another dimension of luxury and perfection. That's why there are many inspirations for this type of solution as window coverings. Check out the tips and trends presented in the photos. White and black window blinds are a popular choice and you can find them in hotels, shops – and probably at your friends' places, too! All blinds from ClickforBlinds are custom-made which means, that you can customise such things as colour, slats width, cloth tapes and much more!
What are the other popular colours of blinds?
White and black materials are not the only choice if you are looking for not only window coverings but also window decorations. What are other picks? Very popular colours with natural designs such as wenge or anthracite are also a great addition to your interior – they make it more natural and warm. They also bring an exclusive atmosphere – after all, natural wood is what everyone likes and the wood gives a premium feeling. Looking for other extraordinary ideas? Think about black blinds with blue ladder tapes – or white wooden blinds with blue ladder tapes – this would make your window coverings really original! Check ClickforBlinds to see all colour options – we offer the most extensive collections of horizontal blinds at attractive prices with quick delivery!
How to clean black and white blinds?
White blinds will take a lot of caring thanks to their collecting all dirt and making it visible. You will see dust on black blinds more easily – similarly like you can see on black cars. If you select venetian blinds then cleaning will be very easy. All you will need is a duster, vacuum cleaner with a brush attachment or a little bit of cleaning spray with wipes. After a few moments of cleaning your venetian blinds will look like new!
How much do black and white blinds cost?
Cost of your blind will depend on the size (e.g. small window or large, wide XXL windows), selected collection (e.g. wooden blinds or bamboo blinds) and extra features (e.g. cloth tape). After you configure your made-to-measure window blinds and choose all the customisation options, you will find the information about the price to pay. ClickforBlinds offers vast blinds collections such as wooden, bamboo, aluminium and PVC venetian blinds. Our products offer such optional additions as cloth tapes, side guiding, plinth and more.