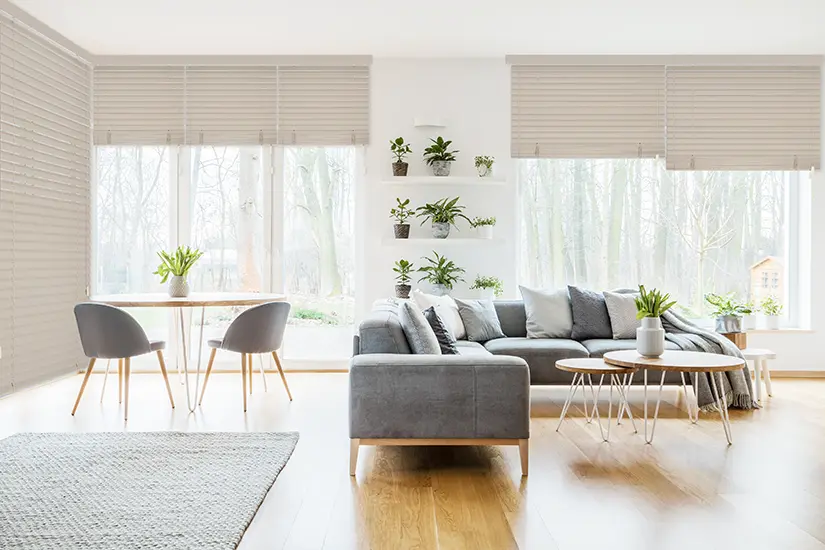 Living room is a place where you spend time with friends and family. Most important is calmness and warm atmosphere – and sunlight in the room plays a significant role. If you want a solution that will allow you to control daylight in your living room – check venetian blinds. They are made from natural wood (like basswood, abachi or bamboo) or aluminium and PVC. It is a great option for window coverings as they provide privacy, allow you to control sunlight in the living room – and, most importantly, it is a stylish and high quality element of every interior. Check our article about window blinds for the living room!
Living room is a central space in every house, where you spend time with your family and friends. It has to be warm and cosy to make you feel comfortable.
When thinking about window coverings for your living room, consider horizontal blinds which allow you to control sunlight and privacy. Blinds are one of the most popular choices for the windows – they look great in every type of the interior
Horizontal blinds are fully customizable which means you can create your own blinds in line with your interior style. We offer numerous extra options so that you can make the final product unique and tailored to your needs.
Pick venetian blinds made from real wood or bamboo if you're looking for natural and high quality window coverings – they will make your living room special and exclusive.
Wooden blinds for modern living room
Wooden blinds are one of the best picks and also bestselling blinds on the market. Their natural design and real wood slats make them a perfect match for every living room – especially if you are looking for a high quality solution. You can select many customisation options, including slats width (27mm, 35mm, 50mm, 65mm), wide colour selection and extra features such as cloth tapes, side guiding, valance and many more. If you need to relax and keep privacy, wooden blinds will be the perfect choice with their great sunlight control system and high-quality finish of the materials.
Got a living room with a lot of sun exposure? Check the special Abachi collection with blinds made from African abachi wood which has extraordinary sunlight control and will assure long-term performance in a sunny environment.  If you are looking for timeless and solid blinds for the living room, pick wooden blinds made from real wood!
Aluminium blinds for modern living room
Aluminium blinds are well known for long-time performance and durability. You can see them in many interiors thanks to their properties. Our aluminium blinds are made-to-measure products with nearly 50 colours to select and customisation options such as cloth and wooden valance.
Aluminium blinds despite their durability and long-time performance do not give so comfortable and warm atmosphere as wooden or bamboo blinds for the living room, because they are made not from real wood. However, they are a good option if you're looking for inexpensive solution as they are cheaper than wooden products.
Bamboo blinds for modern living room
Are you looking for timeless solution made from natural material for your windows in the living room? Choose bamboo blinds which are real bestseller among window coverings. Their natural design makes them a perfect match for the living room. Thin slats with a matt finish will give your interior elegant and natural look – no wonder they became bestsellers in Europe during recent years. Like all venetian blinds, they cope well with sunlight and assure privacy – they allow to darken the room depending on the needs or time of a day.
Bamboo blinds are also a great made-to-measure product thanks to a lot of customisation options. You can make the perfect product for small and narrow windows and the bigger ones – we offer nearly 300 cm wide blinds for selected colours. You can select slat width for your living room blinds (35mm, 50mm, 65mm) as well as decide to go for a RETRO collection – which makes the blinds more unique due to visible steel mechanisms. We offer fully made-to-measure bamboo blinds with numerous extra features – you can create blinds that will perfectly fit your interior.
Faux-wood blinds for modern living room
Durable PVC slats have a wood grain look, which makes them suitable for many interiors. Faux-wood blinds are made from plastic and they look less natural than wooden or bamboo products. However, if you're looking for a cheaper solution – you should check out the faux-wood collections.
Looking for stylish window decoration as blinds for the living room? Check special collection CEDRO with looks with wide customisation options to make perfect custom-made blinds. Remember that although they are prepared to imitate wooden design, they do not give such natural effects as real wood blinds.
Wood-effect blinds for modern living room
Durability and wooden design? Check wood-effect blinds made from aluminium that imitate wood design. Thanks to their properties they can be found in interiors with difficult conditions .g. with a lot of humidity exposure. The durability of aluminium combined with a wooden look makes them a a good match for someone who is looking for rather budget solutions. Their main disadvantage will be their design, which is not natural like real wood or bamboo blinds therefore overall quality and style is inferior to real wood products.
Custom-made blinds for your living room – why is it worth it?
Why would someone choose the custom-made blinds for the living room? What is important is their sunlight control system which helps to control sunlight in the room. You can let the right amount of sun into your living room with the option to darken it. They also help to keep privacy during meetings or playing games with family and friends – with horizontal blinds you can easily control how much people from outside can see what is happening in the house.
Our made-to-measure blinds can be fully customized according to your needs and your interior style. You can prepare your made-to-measure blinds for living room with wide customisation options that will be a perfect match for every interior. We offer numerous collections of blinds and within each multiple colours, extras such as cloth tapes, and many more.
Popular blinds sizes:
ClickforBlinds is a home for custom-made blinds for every interior and has an extensive offer of window coverings. First, you should select material for your blinds (wood, bamboo, aluminium and PVC), then width of the slat (e.g. 35mm, 50mm, 65mm) and then take care of more specific and detailed aspects. Are you having problems with finding right product for your non-standard sized windows? Don't worry, we make custom-made blinds for small, narrow windows as well as wide and large ones. You can order one of the popular sizes (80 cm, 90 cm, 100 cm, 110 cm, 120 cm), but we can also offer you larger, XXL wide products (nearly 300 cm for bamboo blinds, 360cm for wooden blinds and 400cm for aluminium) for selected colours. Check our offer for more details!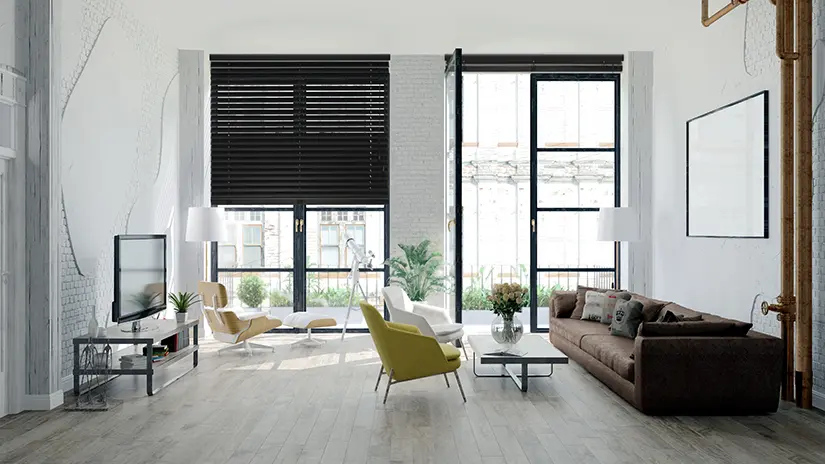 Advantages of blinds in your living room
Sunlight control
Assuring privacy
Long-time performance
Perfect interior addition for affordable price
Stylish and elegant furniture
Fully made-to-measure – make it unique for your living room
Modern living room – trends and inspirations
Looking for trends and inspirations for the living room? Check our tips for preparing living rooms with made-to-measure blinds. Of course, you can pick timeless and popular solutions like white, black or natural wood colours. Trends and tips for the 2022 year are about natural colours and materials – all high quality. Another current trend is about to make your product unique and original – which is possible with our made-to-measure collections!
Don't worry if you liked the blinds but you would like to buy them in different colours. Thanks to our online configurator you can prepare custom-made blinds and customize almost every part of the product. Choose collections, materials, colours, slats width, add side guiding and many more – all available on ClickForBlinds!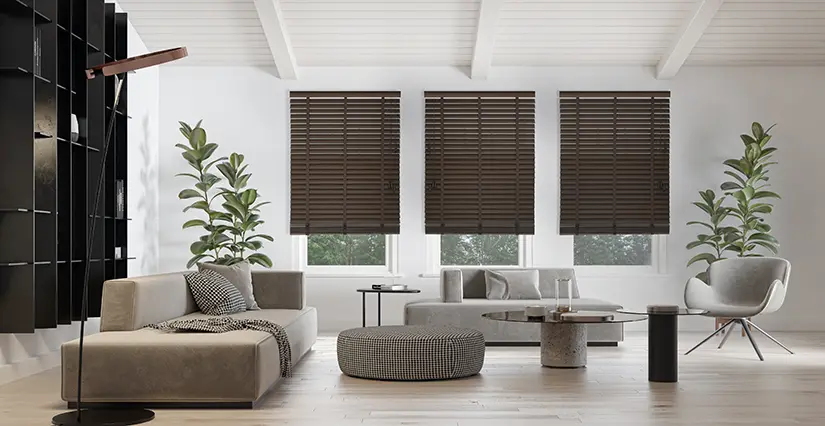 Other window coverings for the living room
Venetian blinds are not the only solution for living room windows. Here are some of the other options as window coverings for the living room. Every product presented here can be found in our online shop.
Roller blinds for living room
One of the most popular solutions for window covering are roller blinds. Thanks to the low price and easy open/close system they can be seen in many interiors. The disadvantage of that pick is the lack of sunlight control vs horizontal blinds.
Roman blinds for living room
Stylish and quality blinds? Check roman blinds which are used in many interiors thanks to their design. Their big detriment will be the same problem as roller blinds, and lack of sunlight control system. Venetian blinds are a better solution as blinds for living room as Roman blinds are not great for very large windows.
Vertical blinds for living room
One of the best solutions for the living room. Easy sunlight control system and privacy assurance are great features of vertical blinds. Unfortunately, if the door will be open or a fan will be close to the blind the vertical columns will collide with wall or some furniture elements. You do not want this noise when spending time in the living room and trying to relax.
Pleated blinds for living room
Check pleated blinds if you are looking for unusual and popular blinds. They bring an original accent to the interior. Their lack of insulation will be a disadvantage during cold days and nights with low temperatures. Additionally, pleated blinds lack style and elegance of horizontal blinds and are less suitable for large surfaces.