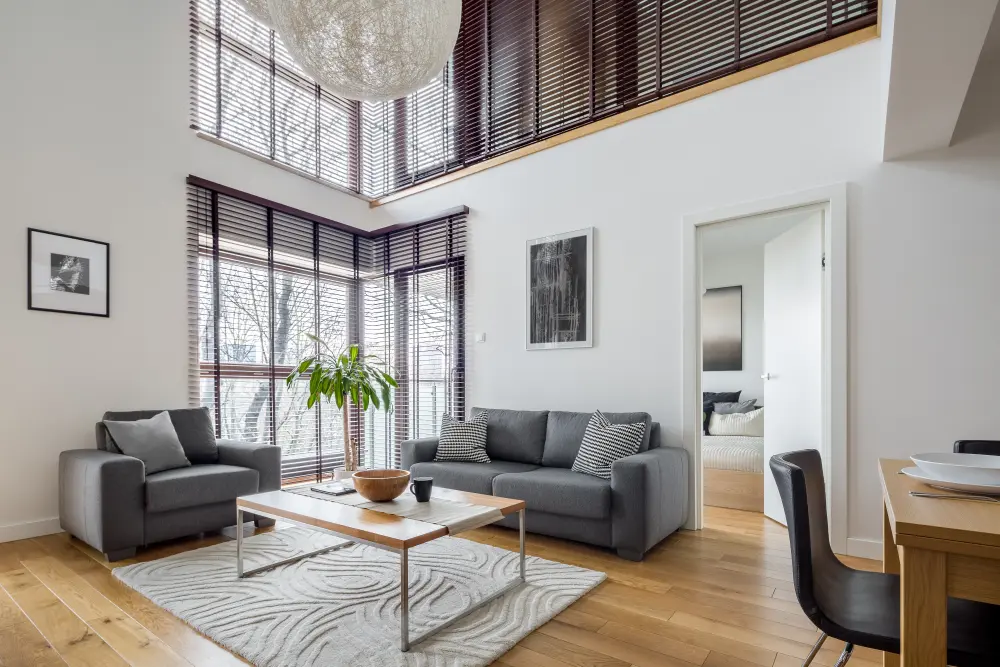 Stylish and timeless interior is what we are all looking for. That is why we have to pick right furniture, carpets and other fixtures to make our home modern, Scandinavian, industrial or any other interior style. Modern house in line with actual trends and tips is popular in many markets. Question is: what is popular in 2023 when it comes to window coverings? Natural materials like wood or bamboo, timeless colour and warmth of the design – this is what people are looking for in window blinds.
Everybody wants to live in stylish interiors that have timeless design. Window coverings are part of it - and they are an important part of the interiors. Current year trends are about natural and sustainable materials so let's have a look at interesting options for window coverings!
Venetian blinds are ideal product for any type of the interior. Pick them as high quality and and fashionable window decorations that can withstand time and different styles.
Venetian blinds are custom-made products created according to your requirements. They are popular in 2023 as everyone wants to have unique products in their homes – including window coverings.
Trend 1: Black is back!
Black elements of interior are popular nowadays – they fit any type of the interior design. Black coloured blinds will be perfect for many interiors like modern houeses. Add white or more bold red accents to create space like real interior designer! Match them with natural wooden furniture and enjoy unique experience.  Choosing black window blinds you cannot go wrong – it will work in any interior. No surprise that this is our most popular colour and people love it!
Trend 2: Venetian blinds or curtains? What window decoration should you choose?
Both venetian blinds and curtains are good choices for modern window decoration but you have to check their advantages and disadvantages. Horizontal blinds will assure privacy and control over extent of natural light in the room. Pick venetian blinds made from natural wood, bamboo or PVC and aluminium. They will fit perfectly into every interior. Thanks to wide range of sizes, colours, slats widths, collections and additional features you can create made-to-measure window decoration. Buy custom blinds for standard and non-standard size of window like 210 cm, 240 cm, 300 cm and more. You can even configure wooden blinds as wide as 360 cm for selected colours – especially the most popular ones like white and black!
Curtains are one of the other possibilities as window coverings. Their design can give luxurious accent for interior. One of the disadvantages of them will be worse sunlight control than venetian blinds. Venetians thanks to being built from slats let you put only bit natural light into your house or room. Curtains will also be bad solution for wet and humid environments. Venetian blinds with water and moisture resistance will be perfect match for these spaces.

Trend 3: Be eco! Choose sustainable fabric
Sustainability and ecology – we all want it, especially in times when we have many environmental challenges. Similarly, it is important when choosing window decorations. That is why you should check long-term and green solutions for window coverings. Select bamboo venetian blinds as perfect match for every interior. Thanks to being produced from fast growing bamboo trees these will be perfect ecological choice. Thanks to their natural slats they will ideally fit into every interior.  They are also durable which makes them great sustainable and eco solution.
Trend 4 – be yourself! Decorate your home in your own way
Create your perfect interior for your mood to feel comfortable in your own home. Enjoy high-class and timeless experience from selected colours, furniture and other accents. You can pick one style of interior or mix them to create your own space. More and more trending part of every home are window coverings. Check made-to-measure venetian blinds. Custom-made products with wide range of colours, sizes, collections (wooden, bamboo, PVC and aluminium) will be excellent solution! Personalise them also with additional features such as cloth tapes or mounting method to fit your needs! Thanks to a lot of customisation options you can enjoy beautiful and timeless window decoration in your interior!