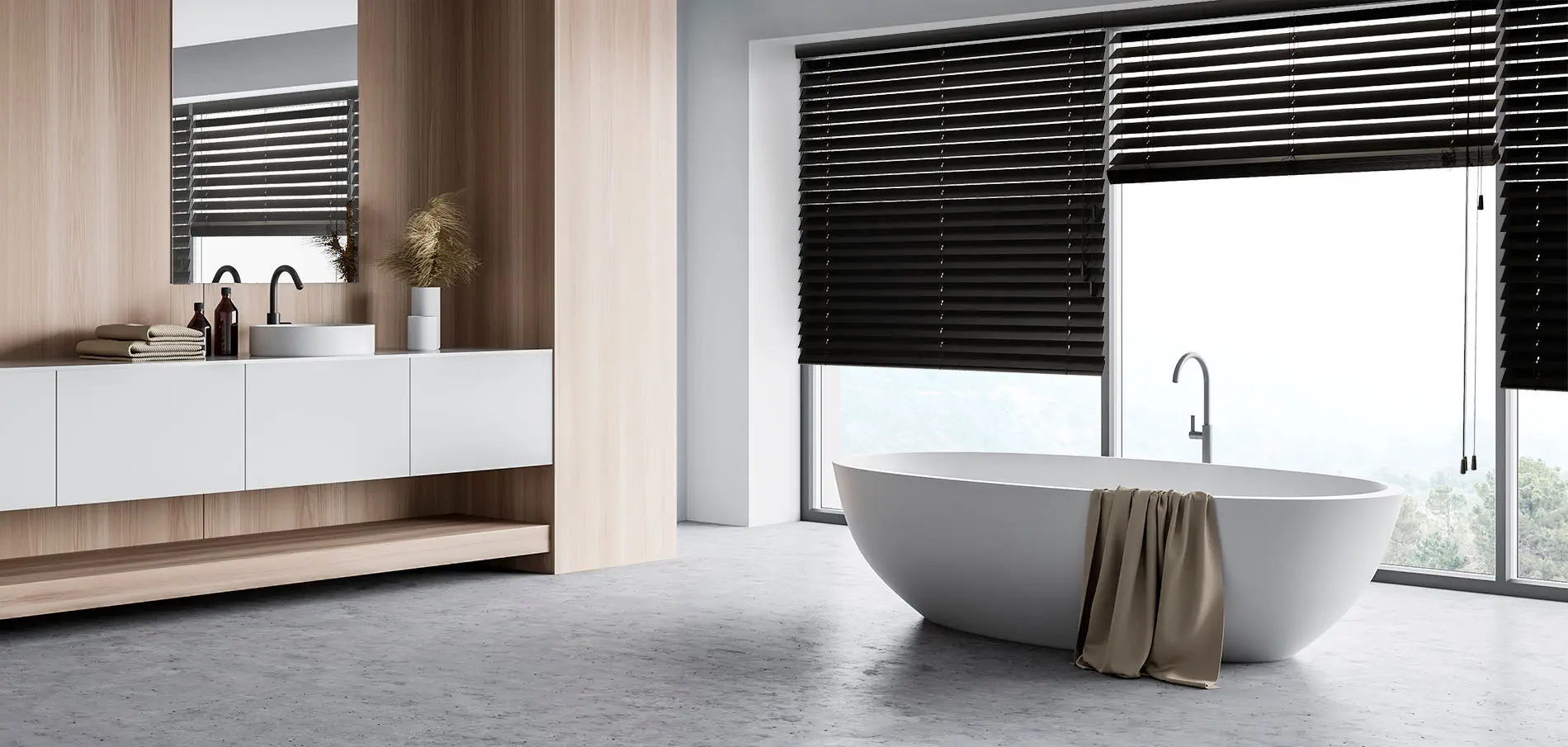 Modern interiors are one of the popular styles in architecture and furniture selection. Many people want to modernize their home with different ideas such as changing furnishings or adding art in form of painting or decoration. That is why more and more important are modern window coverings which can help with bringing harmony and tranquillity into your interior. Venetian blinds are one of the most selected products with their sun control, stylish design and durability and they are often called perfect modern blinds. Thanks to being made-to-measure blinds with a wide range of customisation options you can prepare not only long-term modern window covering but also modern window decoration.
Modern home? Ideas of this type of interior are timeless and have a lot of fans, changing their furniture and decorations. You can see a lot of projects with new homes and offices with modern style in them or older ones which are modernized to meet standards and trends.
Modern interiors are often described as practical and minimalistic but only in terms of cluttering and redundant furniture. When they are combined with neutral wall colours, open space and decorations you meet the standards of this type of design.
You can also find modern window coverings to match the rest of your interior. The perfect solution will be venetian blinds made from natural bamboo, wood, aluminium or PVC. Select them if you are looking to assure privacy and control sunlight.
Our venetian blinds are full made-to-measure products with a wide range of customisation options and additional features – so that you can configure your modern blinds.
What does a modern interior mean?
Modern interiors are of the most desired type of design for many rooms or even the while houses. But what does it mean to have a modern interior? It is often related to minimalistic interiors, as modern interiors are more about functionality. The walls are in neutral colours like white, grey, black and others. Modern homes are also often made as open spaces with not many walls that can be replaced for example by furniture like a kitchen island which can split the kitchen from the dining or living room. In modern homes or offices more and more often you can see large windows to bring as much natural light as possible. If you want to assure privacy and have the right amount of sunlight check horizontal window blinds as a window covering.
Modern blinds for the modern room – which are the best?
Many types of blinds can be used in plenty of rooms and they work fine. Everything depends on the type and material that are used to produce them. We recommend venetian blinds which thanks to their sunlight control and privacy assurance will be the perfect solution for the modern interior. Let's check what type of venetian blinds would be a good choice for modern interiors.
Modern bamboo venetian blinds – a natural and timeless solution for the modern interior!
If you are looking for a beautiful, stylish and practical modern window covering or even modern window decoration, bamboo venetians are a perfect choice! Thanks to their properties they will assure sun protection and privacy. They will also fit modern trends such as natural blinds. Bamboo venetian blinds can be used in every room and interior thanks to their natural design, their slats have a matt finish, which provides them with a remarkable finish. They are a perfect product, one of their advantages will be fine work even in a wet and humid atmosphere so they are put into the living room, bedroom, kitchen, bathroom, office or children's rooms.
As made-to-measure blinds, they can be customised starting from slats width, cloth tapes, side guiding and many others. Their advantages make bamboo blinds the perfect pick for the modern interior!
Modern wooden venetian blinds – practical and stylish modern window covering and decoration
Best-selling, natural and stylish solution for modern interior and its windows? Pick wooden venetian blinds which bring nature into your home or office. Offering timeless, stylish and long-term work time they are one of the favourite solutions for example blinds in modern homes. Wooden venetian blinds as a custom-made modern window covering offer many options to decide like slats width (27mm, 35mm, 50mm, 65mm). You can also have made-to-measure blinds even for bigger windows with 210 cm, 240 cm, 300 cm blinds width and more for selected colours. Select such customisation options as adding cloth tapes, side guiding and many others!
Check also a special collection of Abachi blinds collection made from African abachi wood. They will work great especially in interiors with high sun exposure. Abachi wooden blinds are an exclusive and natural solution for your window covering and window decoration. Wooden and abachi blinds will be perfect for bedroom, living room, office or children's rooms.
Modern aluminium blinds – if durability is a must as your modern window covering
Durability, long-time performance without disturbance and easy cleaning? Thanks to their properties aluminium blinds are one of the popular window coverings. Pick aluminium blinds as your modern window decoration with a wide range of customisation options.
You can select from a wide range of colours, and collections like Elegance, Sunset and Retro. Check also additional features like cloth tapes, valance, and side guiding to prepare make-to-measure products. Aluminium horizontal blinds are the perfect choice for all rooms and offices, especially for kitchens and bathrooms.
Modern Faux-wood venetian blinds - endurance with a touch of nature
Made from PVC faux-wood blinds are a perfect choice for many interiors, assuring long-time performance, privacy and sun protection. Thanks to the natural look they link durability with a natural accent. Faux-wood blinds are a good pick and they will be a nice option if you are looking for modern blinds for every room. Their disadvantage will not be much natural stylish effects like from bamboo or wooden venetian blinds.
Modern wood-effect venetian blinds – a great alternative to wooden blinds
Aluminium blinds prepared to have wooden look are another solution if you need durable and long-term modern blinds. As they are a made-to-measure product you can prepare custom-made modern window covering and modern window decoration for most of the interiors. Although they have wooden looks, it is not as natural as bamboo or wooden blinds which will be their main disadvantage.
Made to measure modern blinds – personalize your interior in your own way
You don't know if a selected blind will work fine with your window? Don't worry, thanks to our online configurator available in our shop, you can create made-to-measure modern blinds. Start by selecting the right slats width (35mm, 50mm, 65mm and others), measure properly and put them into our configurator (we make standard size blinds but also non-standard sizes in 210 cm, 240 cm, 300 cm even up to 400 cm in width). After that select from a wide range of colours and optional additions. Pick cloth tapes, wooden valance, side guiding and many other personalisation possibilities. Thanks to that you can prepare your made-to-measure modern blinds!
Other modern window coverings for your modern interior
Venetian blinds are not the only option as modern blinds. You can select curtains, roller blinds, pleated blinds and many others. We will present to you some other solutions as modern blinds. Every product introduced here is available at ClickforBlinds.com with a wide range of customisation options, we have even blinds with blackout effect if needed.
Pleated blinds
Thanks to unusual and stylish design pleated blinds are gaining more and more popularity. Vast colour selection makes them a nice choice as not only modern window covering but also modern window decoration. Their disadvantage will be not much moisture and water resistance, which can be problematic, especially in the demanding bathroom.
Roller blinds
The easy open/close system and low price make them one of the most popular modern window coverings. Unfortunately, their open/close system doesn't give so many sunlight control options as venetian blinds and they will be more difficult to clean. Roller blinds are not also a very durable solution, so they can be a solution only for a while.
Vertical blinds
Looking for other modern blinds? Check vertical blinds which are classy and elegant resolution not only as a window covering but also as a modern window decoration. Thanks to their design they are popular in many interiors also thanks to their low maintenance. Their design can be disadvantageous during swinging when the vertical columns will hit making not much needed or wanted noise.
Roman blinds
Other modern blinds with easy open/close system and stylish design. They assure privacy and protection from the sun but same as roller blinds they do not give so many sunlight control options as venetian blinds. They are made from fabric but they will not give the same natural effect as bamboo venetian blinds.
How much do modern blinds cost?
The cost of modern blinds is estimated based on the type of configured blinds and selected customisation options. The final price will be shown after you create your made-to-measure product. Price for modern blinds is shown while you configure the product.
Then you set the size (width and drop) and select from many customisation options. Pick from a wide range of colours, side guiding and many others to prepare ideal modern blinds!