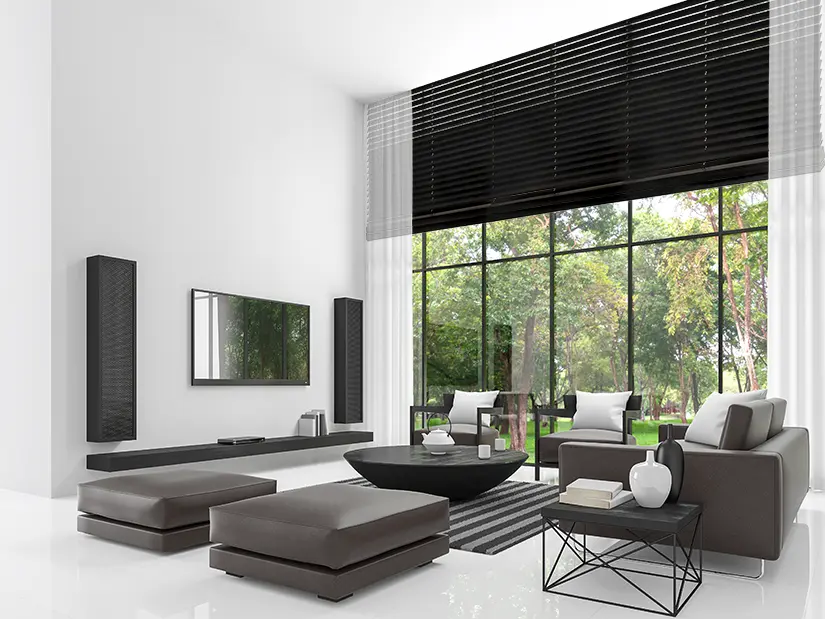 We all want to enjoy our interiors as much as possible. It doesn't matter if it's a bathroom, bedroom, kitchen, office or children's room. We want to feel a comfortable, calm and relaxing atmosphere. Lack of privacy or too much sunlight is not an option that is why we look for window coverings, which can be also window decorations. Now large windows are popular, especially in new apartments, houses or offices. We are not surprised – they are a source of natural light. As windows are getting larger we need great options for window coverings. Large window blinds are our specialisation – we offer numerous collections available in very wide sizes – up to 360 cm for wooden blinds and 400 cm for aluminium. Check our article about key considerations of window blinds sizes!
Natural light is more and more sought after in houses and offices. It makes interiors calmer and brings a relaxing atmosphere. With bigger windows trending especially in new buildings, we want the right amount of sunlight and privacy. We also want to cover larger windows with high quality window coverings – which may not be easy
That's why window coverings are so important. We offer venetian blinds, roman blinds or vertical and roller blinds – they all would help you to cover windows of any size
Venetian blinds, especially wooden and bamboo blinds, are great window coverings given their natural and timeless design. You will be amazed by the natural warmth and design they give to your interior
What is important is the fact that natural blinds can be used in really large windows. 210 cm, 240 cm, 300 cm and even 360 cm wide blinds are available in our shop – check our product collections to see all possibilities. We also offer a lot of extra additions like cloth tapes, side guiding, colours of the mounting brackets – and many more!
What is the maximum width for the window blinds?
We have a vast offer of blinds width, you will find window coverings for small, narrow windows and very large and wide ones. For example, we can offer you 210 cm wide, 240 cm wide, 300 cm wide and even wider blinds – 360 cm for selected colour for wooden blinds (black and white for example) and even up to 400 cm for aluminium blinds. Maximum widths of blinds are different because of the materials used in production. Natural materials like wood or bamboo cannot be used in such wide blinds as aluminium because of their durability.
Also what is important is the fact, that if you want very wide venetian blinds you can order electronic steering equipment which will be added to your order, to assure smooth and long time performance. For motorized blinds – please contact us directly and we will help you to arrange it. Pick blinds made from natural wood, bamboo, aluminium or PVC with many customisation options that will be the perfect choice for your windows. Want to know what are the possible width size of each blind? Check our table with maximum widths remembering that not all colours or patterns will be available in that size.
| | |
| --- | --- |
| Blinds type with slats width | Maximum width for selected colours |
| Wooden blinds 50mm, 65 mm | 360 cm |
| | 270 cm |
| Bamboo blinds 50mm, 65mm | 299 cm |
| Aluminium blinds 35mm, 50mm Sunset | 400 cm |
| Wooden blinds 27 mm | 240 cm |
| Wooden blinds 35 mm | 300 cm |
| Bamboo blinds 35 mm | 240 cm |
| Faux-wood blinds 35mm, 50mm, 65mm | 400 cm |
| Wood-effect blinds 35mm, 50mm | 400 cm |