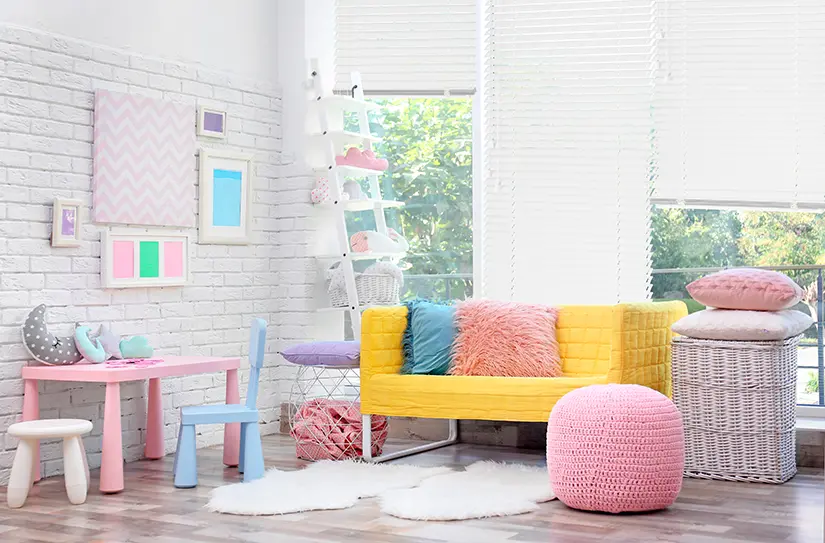 Children deserve everything best, that is without a doubt. They often have their own rooms where we want them to feel comfortable and calm, which gives us safety about their mood and well-being. Of course, that room is also a place to have fun, invite friends, spend time with family and organize parties with other children.
Important thing is to assure the right amount of sunlight and privacy for kids. If you are looking for providing these things to your children's room check venetian blinds made from natural wood, bamboo or other materials. Let's check trends and inspirations for selecting right blinds for the children's room.
Children's room is one of the most important parts of the home, we all want it to be perfectly designed and safe for boys and girls
That's why too much sun control and privacy are very important
Check window coverings which will protect from overheating and assure privacy with simple sunlight control
We recommend venetian blinds made from natural wood or bamboo as they look cosy and warm, giving your children's room an elegant and calm look. Aluminium or PVC will also fit the children's room and are cheaper than natural materials like wood.
Don't worry about the child safety issues with the horizontal blinds - we offer a child safety system for all our venetian blinds!
Wooden blinds for children's room
One of the bestselling, solid and unique venetian blinds are wooden blinds made from real wood. Thanks to its natural look, every room and interior gain a timeless and solid window covering. Wooden blinds deliver an adjustable amount of daylight, darkening the room or allowing sunlight and happiness. They are also durable and assure long-time performance. This is the most popular product in the market – it looks great in every type of interior and is a very high-quality addition to your children's place.
Check multiple collections like Abachi wooden blinds which are made from African abachi wood. They are suitable for rooms with high sun exposure. We also offer other collections like GLOSS with shiny slats for designer and glamour modern interiors. Wooden venetian blinds are a full made-to-measure window covering which includes many customization options from slats width, colours to cloth tapes and many more.
Aluminium blinds for children's room
Another very popular solution for many rooms are aluminium blinds. Thanks to their durability and waterproofness with moisture resistance, they can be found in demanding environments.
They provide a stylish addition to many spaces thanks to vast customisation options like colours, cloth tapes, wooden valance and many others. They are a good value for money product but they are not as stylish and unique as wooden or bamboo blinds. They are also durable especially if kids have access to the window and would often touch the blinds or play nearby – aluminium slats would be a durable solution.
Bamboo blinds for children's room
Bestseller, natural and unique product for your children's room? Pick bamboo blinds, stylish and durable, great for every type of interior design. Like all venetian blinds, it has a great sunlight control system that assures privacy in the room. Fans of the style will also appreciate the thin slats and matt finish of bamboo blinds.
Bamboo blinds will easily fit into every window from small and narrow windows to large and wide ones (up to 300 cm in width). As a made-to-measure window covering product you can select many customisation options. Select from slats width (35mm, 50mm, 65mm), cloth tapes and others to make perfect window coverings for your children's room windows.
If you decide to order bamboo blinds you will gain not only great window covering but also stylish window decoration giving your children's room a lot of warmth and cosiness.
Faux-wood blinds for children's room
Made from PVC slats with wood looks faux-wood blinds are ready to work also in a wet and humid environment. Thanks to their properties they will provide long-time durability and performance. Before picking them remember that they may have wood looks, but they will not give natural effects like real wood or bamboo blinds.
Wood-effect blinds for children's room
Looking for a durable and good value for money product with natural looks? Check wood-effect blinds which are aluminium but prepared to look like wood. Thanks to their moisture resistance they find a place in many interiors. Although they have wood looks, they do not give so much natural effect as blinds made from real wood or bamboo.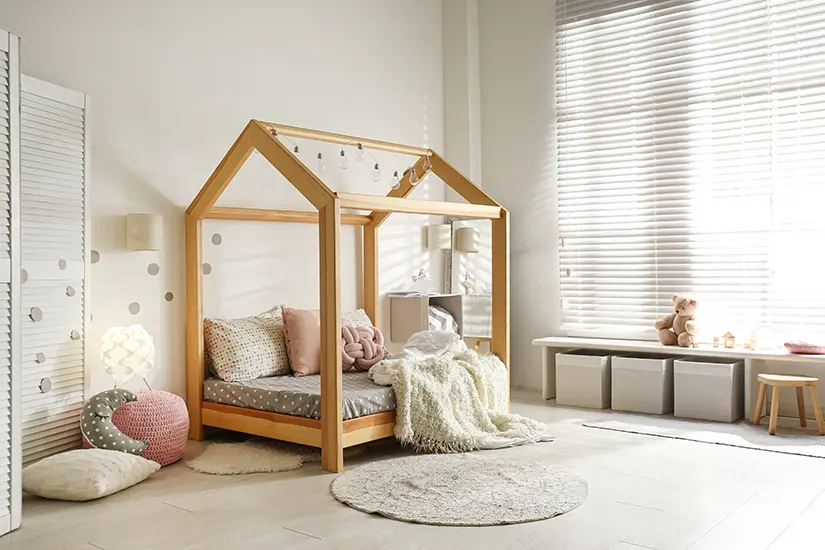 Custom-made blinds for your children's room
Sunlight control (darkening or letting more daylight into the room) or protection from overheating during fun in children's room or parties for kids? Then select venetian blinds from ClickforBlinds, which will fit into every window thanks to being made-to-measure products. Choose colours, slats width and special collections and make a custom-made product for the children's room!
All of our venetian blinds can be ordered with a child safety system which reduces the possibility of any accident – it is in compliant with key EU standards.
Popular blinds sizes:
If you are looking for venetian blinds for your windows, don't worry, ClickforBlinds has perfect products for every interior! Don't worry about the choice of slats width because you can from most frequently picked like 35mm, 50mm and 65mm and others like 27mm. Also, we can prepare window covering in many different widths – in line with your requirements. Popular widths now are 80 cm, 90 cm, 100 cm, 110 cm and 120 cm.
Do you have large windows but cannot find the right window covering? ClickforBlinds offers blinds for wide windows (up to 360 cm for wooden blinds and 400 cm for aluminium) with many colours and customisation options. For example, if you want to order wooden blinds it is possible to order even in 360 cm width for selected colours (black, white and many more). Bamboo blinds also can be produced for very wide windows, with the option to make up to 300 cm product for selected colours (white, black, anthracite and more). Check our offer on ClickforBlinds to create perfect blinds for your windows.
Do you have a wide window (over 240 cm) and cannot find the right product? Don't worry, we offer XXL wide horizontal blinds which will look great in your windows. Our bamboo collection, despite standard max width of 270cm for most of the colours, can also offer widths of up to 300cm for selected colours, e.g. black, white, pearl white, wenge and anthracite.
The maximum width of the wooden blinds varies depending on the colour. Natural colours are available in max width of 270cm but a majority of the collection could reach 300cm width. Selected colours (white, black, anthracite and many more) are possible in 360cm width – a great solution for very wide windows.
Advantages of having blinds in your children's room
Privacy during children's sleep, fun or kid parties
Protection from excessive sunlight
Warmth thanks to natural high quality materials
Natural and attractive design making the children's space cosy and stylish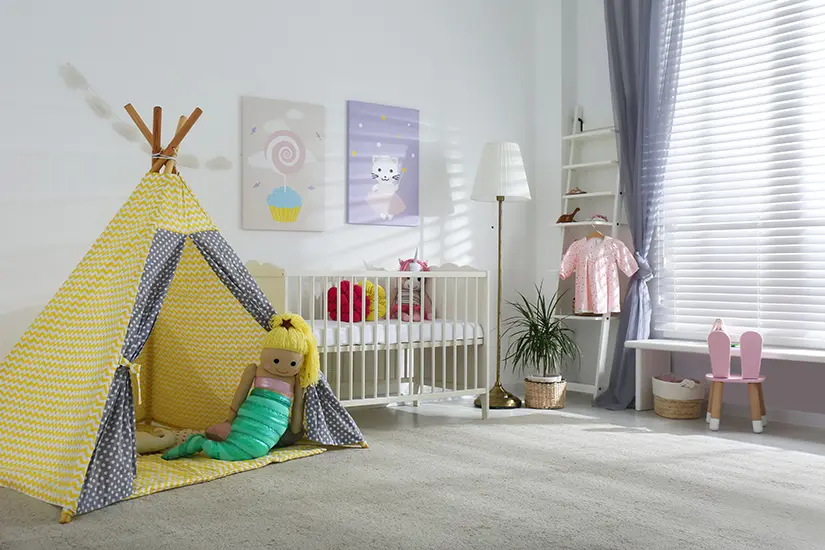 Children's room – trends and inspirations
How to select perfect blinds for children's rooms? Let us show some of the inspirations and tips for space prepared for kids. As always you can go with classic white or black blinds, but you can show some imagination by picking different colours or collections.
Our made-to-measure blinds are custom-made products with various customisation options like colours, slats width, cloth tapes and many others!
Remember - all of our venetian blinds can be ordered with a child safety system making it a safe solution for children's room.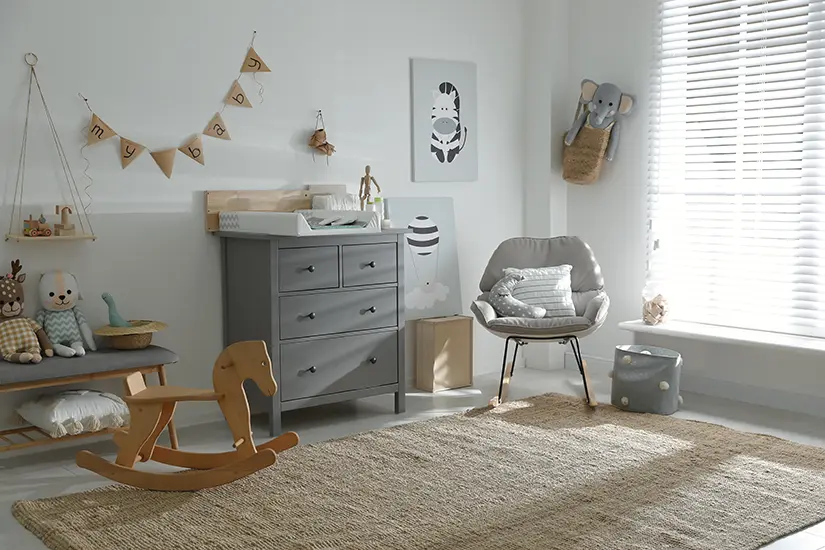 Other window coverings for the children's room
Venetian blinds are not the only window coverings for the children's room. You can also consider curtains, roller blinds, pleated blinds and many more. Every solution presented is available in our shop. Check every detail before buying, it will help you make the final choice.
Roller blinds
Roller blinds are the budget option for many interiors. That's why they are one of the most popular solutions for window coverings. Their disadvantage will be hard cleaning and not much sunlight control.
Vertical blinds
Looking for modern blinds? Check vertical blinds which can be made even for bigger windows. Although they have an easy control system you have to check their disadvantages. There is noise during swinging motion when vertical columns when you have windows open. We don't want to disturb our children during sleep with that sound.
Roman blinds
Another popular for many rooms are roman blinds. Made from fabric they find a place in interiors thanks to their easy open/close system. Unfortunately, it does not give as much sunlight control as venetian blinds – you can go, however, for a full blackout option. Roman blinds look good on both small and large windows.
Pleated blinds
Unusual and stylish window covering? Pick pleated blinds selected by many thanks to their fresh design. Their disadvantage will be a lack of insulation which especially during cold nights and low temperatures will be not acceptable.