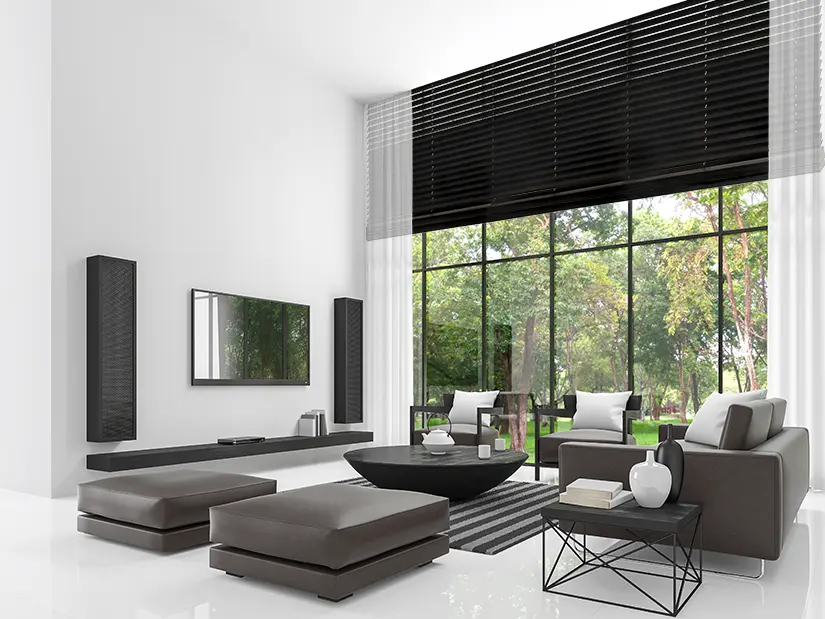 We all want to enjoy our interiors as much as possible. It doesn't matter if it's a bathroom, bedroom, kitchen, office or children's room. We want to feel a comfortable, calm and relaxing atmosphere. Lack of privacy or too much sunlight is not an option that is why we look for window coverings, which can be also window decorations. Now large windows are popular, especially in new apartments, houses or offices. We are not surprised – they are a source of natural light. As windows are getting larger we need great options for window coverings. Large window blinds are our specialisation – we offer numerous collections available in very wide sizes – up to 360 cm for wooden blinds and 400 cm for aluminium. Check our article about key considerations of window blinds sizes!
Natural light is more and more sought after in houses and offices. It makes interiors calmer and brings a relaxing atmosphere. With bigger windows trending especially in new buildings, we want the right amount of sunlight and privacy. We also want to cover larger windows with high quality window coverings – which may not be easy
That's why window coverings are so important. We offer venetian blinds, roman blinds or vertical and roller blinds – they all would help you to cover windows of any size
Venetian blinds, especially wooden and bamboo blinds, are great window coverings given their natural and timeless design. You will be amazed by the natural warmth and design they give to your interior
What is important is the fact that natural blinds can be used in really large windows. 210 cm, 240 cm, 300 cm and even 360 cm wide blinds are available in our shop – check our product collections to see all possibilities. We also offer a lot of extra additions like cloth tapes, side guiding, colours of the mounting brackets – and many more!
What is the maximum width for the window blinds?
We have a vast offer of blinds width, you will find window coverings for small, narrow windows and very large and wide ones. For example, we can offer you 210 cm wide, 240 cm wide, 300 cm wide and even wider blinds – 360 cm for selected colour for wooden blinds (black and white for example) and even up to 400 cm for aluminium blinds. Maximum widths of blinds are different because of the materials used in production. Natural materials like wood or bamboo cannot be used in such wide blinds as aluminium because of their durability.
Also what is important is the fact, that if you want very wide venetian blinds you can order electronic steering equipment which will be added to your order, to assure smooth and long time performance. For motorized blinds – please contact us directly and we will help you to arrange it. Pick blinds made from natural wood, bamboo, aluminium or PVC with many customisation options that will be the perfect choice for your windows. Want to know what are the possible width size of each blind? Check our table with maximum widths remembering that not all colours or patterns will be available in that size.
| | |
| --- | --- |
| Blinds type with slats width | Maximum width for selected colours |
| Wooden blinds 50mm, 65 mm | 360 cm |
| | 270 cm |
| Bamboo blinds 50mm, 65mm | 299 cm |
| Aluminium blinds 35mm, 50mm Sunset | 400 cm |
| Wooden blinds 27 mm | 240 cm |
| Wooden blinds 35 mm | 300 cm |
| Bamboo blinds 35 mm | 240 cm |
| Faux-wood blinds 35mm, 50mm, 65mm | 400 cm |
| Wood-effect blinds 35mm, 50mm | 400 cm |
How do I choose the width of my blinds?
For blinds mounted inside begin with measuring the accurate width (from left to right) of the window niche at the top, middle and bottom. Select the lowest of the three measured sizes, which will be the width of the niche. Subtract 10 mm from niche width, which will allow you to operate easily with blind and mounting brackets (This will lead to having 5 mm gaps on every side of blinds).
If you are thinking of buying large blinds for example 50mm wooden or aluminium blinds, then it is better to make bigger gaps like 14-20 mm (7-10 mm on each side of blinds). It is an efficient, functional and reasonable solution and sometimes even makes blinds look better.
For more information and details about mounting blinds inside and solutions for mounting outside check our measuring section available here at: https://www.clickforblinds.com/en/measure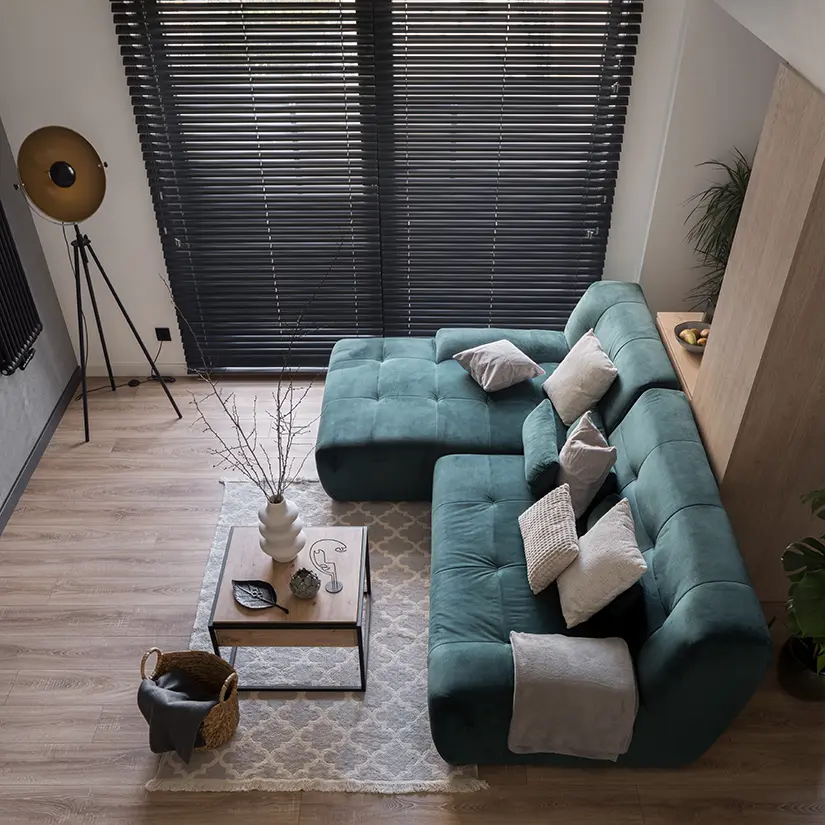 Which window decoration for large windows?
The perfect choice for most large windows are wooden or bamboo venetian blinds. Made from natural materials their main advantages are attractive price, quality of the finish – they will make your rooms elegant, warm and stylish. Thanks to being custom-made products you can select from a wide range of standard and non-standard size window coverings like venetian blinds and roller blinds.
Our blinds are destined for square and rectangular windows. As a shop, we offer also vast customisation options such as slats width (35mm, 50mm, 65mm and others), cloth tapes in many colours, side guiding and much more!
Popular blinds 210 cm, 240 cm, 300 cm and 360 cm wide
Wooden blinds 210 cm, 240 cm, 300 cm and 360 cm

Made from natural basswood wooden blinds are bestselling and timeless window covering. Suitable for most of the interiors they are a great solution for living rooms, bedrooms, offices and children's rooms. Thanks to their sunlight control you can be sure about the right amount of sun going into your room or office.
Adding privacy assurance you are sure about wooden blinds as practical and stylish not only for window covering but window decoration. If you are thinking about picking wooden blinds check Abachi collection made from special African abachi wood. These blinds will work perfectly in interiors with high sun exposure.
Wooden venetian blinds are made-to-measure products with many customisation options such as many slats widths (27mm, 35mm, 50mm, 65mm), sizes (maximum width for selected colours and slats width 363 cm) so they will be great even for very big windows.
Bamboo blinds 210 cm, 240 cm and 300 cm

Bamboo venetian blinds are one of the most popular solutions for every window. Thanks to their durability and natural design they are suitable not only as a window covering but as a perfect lifestyle addition for every interior. Like every venetian blinds, they will assure privacy and smooth sunlight control. With a matt finish, they gain distinguished touch.
Bamboo blinds thanks to their properties will be a perfect match for every room or office, they work well even in a wet and humid environment. As a made-to-measure product, you can select from vast customisation preferences such as slats width (35mm, 50mm, 65mm slats), special Retro collection, cloth tapes and others. They will be the perfect choice for many big windows, as we can prepare nearly 300 cm wide bamboo blinds for selected colours! It is standard to have all colours in 240 cm width available. Some of them are also available in 270 cm – check out the collections for yourself!
What is the price of made-to-measure blinds?
There is no one price for made-to-measure blinds. Everything depends on blinds size (bigger blinds equal higher price), slats width and additional features such as cloth tapes, valance, side guiding or electronic control system for very big blinds. You can order from our shop 400 cm width blinds with customisation options to prepare your made-to-measure products. Remember that wooden and bamboo blinds are more expensive than aluminium or PVC ones, they are more stylish and natural solutions as window coverings. In some products, like XXL wide wooden blinds, production of slats is more demanding that's why they are more pricey in very wide sizes.