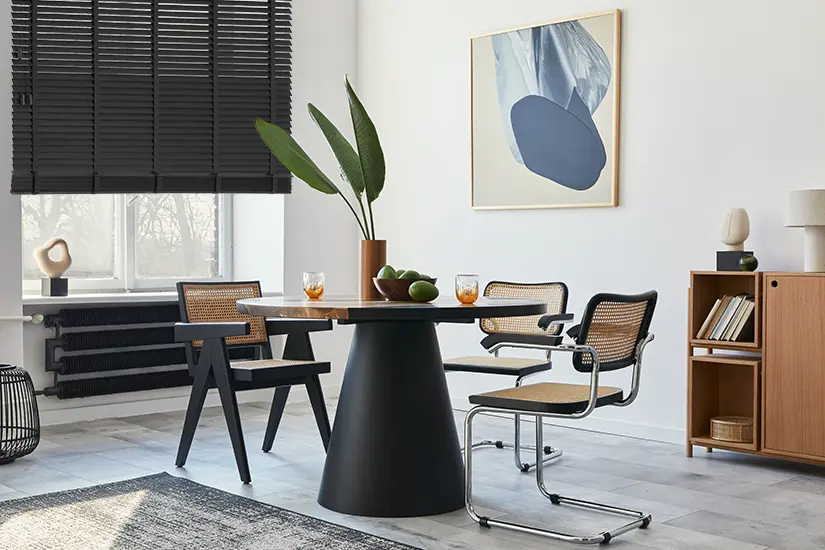 Home office, open space or maybe working in a business centre? Everybody needs their own working space which provides a calm atmosphere and allows to focus on work. That will help them to concentrate on their jobs much quicker than usual. In all offices sunlight is very important – but it's also important to be able to control it. It makes the working environment more comfortable.
If you are looking for a timeless and suitable solution for your home office or any other working place you should consider buying venetian blinds. They will help with controlling the amount of light coming into your workspace and provide privacy during work.
Concentration and productivity – that must mean work in an office – no matter is it home office or bureau – these two things are a must
Big windows are present in more and more offices which bring much sunlight into them
If you want to assure privacy and the right amount of sunlight for offices you have to look at window coverings, which will help to have a calm and warm atmosphere
Check venetian blinds made from natural wood and bamboo or artificial from aluminium, which are guarantors of sunlight control and privacy during your work
Wooden blinds for modern office
If we are talking about solutions for office blinds, we have to begin with horizontal blinds. Popular, natural and long-lasting performance for workspace windows? Pick wooden blinds made from real wood.
Thanks to their stylish look you not only gain window covering but also window decoration. Their sunlight control system helps to control the amount of light and keep privacy in your office.
Our vast collection allows you to select from various slats widths (35mm, 50mm, 65mm) and customisation options. Check also special collections of wooden blinds which are Abachi made from African abachi wood. They are good very high sun exposure. We also have other collections like Rustica, classic Retro, unique Vintage, resembling real wood grain texture Select and luxury Gloss with shiny slats.
Looking for unique and timeless window coverings for the office? Choose wooden blinds from natural wood!
Aluminium blinds for modern office
Durability is a must? Pick aluminium horizontal blinds which offer long-time performance and durability. They will suit many windows and interiors thanks to various customization options such as slats width or numerous colours.
You can select the premium Elegance collection or classic Retro collection to configure made-to-measure office blinds. Remember that they will not give so much stylish effect as blinds made from natural materials.
Bamboo blinds for modern office
Time for bestselling, natural, stylish and durable bamboo blinds. They will fit in every window and will be a great addition to your interiors. Bamboo blinds can be used even in large and wide windows, as they can be produced up to 300 cm width.
Like every venetian blind, it can be customised in many ways from slats width (35mm, 50mm, 65mm), various colours (white, black, light oak and many more), cloth tapes and many more additional options. Sunlight control and ensuring privacy are only one of the advantages presented by bamboo blinds. Slats of bamboo blinds are thin and have a matt finish. They will also work well even in a wet and humid environment.
Check also the classic Retro collection to pick the best made-to-measure blind! Bamboo blinds are a unique natural solution for office windows.
Faux-wood blinds for modern office
Faux-wood blinds have slats made from PVC. They are durable and work well in a humid environment. Thanks to many customisation options they will be suitable for every window in your office. Faux-wood has natural look but they don't have the same unique effect as wooden or bamboo blinds.
Wood-effect blinds for modern office
Another mixture of durability and wood look. Wood-effect blinds made from aluminium with wood looks will be long-time and durable window covering. It is a cheaper solution, but it won't give as much warmth and daylight as wooden and bamboo blinds.
Custom-made blinds – a perfect choice for your office
Custom-made blinds are a perfect match for every office. Open space, home office or director's cabinet will be a place where you will feel comfortable and concentrated thanks to the right amount of daylight. Choosing natural materials like wood and bamboo will give the room extra warmth. Thanks to them you will protect your space from overheating.
Venetian blinds are one of the most popular solutions for office areas. Thanks to choosing made-to-measure blinds you can make the perfect product that will also be a perfect addition to your interior and make your space more comfortable and exclusive.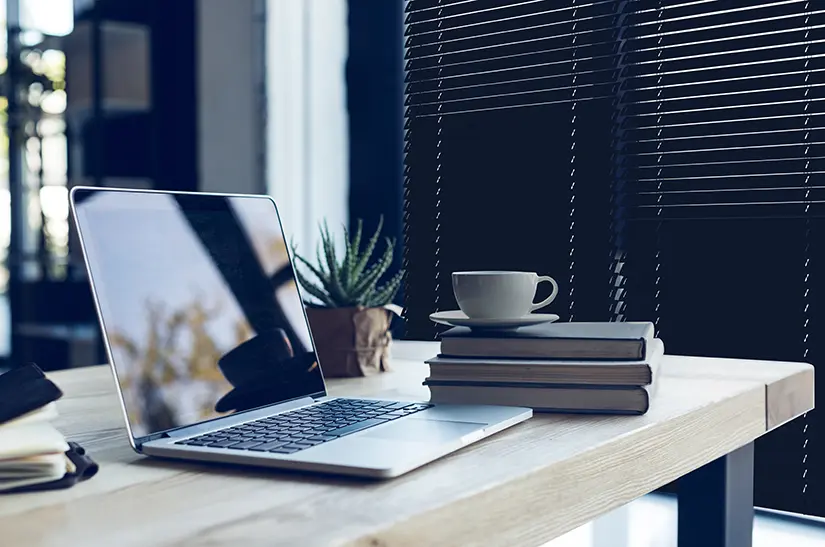 Popular blinds sizes
You want to buy blinds but you don't know where and how? Check ClickforBlinds offer with numerous collections. You can choose the height and width to match perfectly your window. Some of the popular widths include 80 cm, 90 cm, 100 cm, 100 cm, 110 cm and 120 cm.  Also, you select one of the slats width sizes (35mm, 50mm, 65mm and others)
Don't worry if you need blinds for bigger windows! ClickforBlinds is a place where you can select wooden blinds even in 360 cm width for colours such as white, black and others. Bamboo blinds also can be produced up to 300 cm in width for selected colours. Don't hesitate to come and check the ClickforBlinds offer!
Advantages of having blinds in your office
Privacy control during work
Warmth and productivity boost thanks to sunlight control
Stylish part of the interior design
Natural and exclusive look
Modern office – trends and inspirations
Everybody wants a modern and unique interior in their offices, but how to achieve it? If you are looking for advice or tips, check our inspirations for your workspace. No matter if you are working at home or office, many things can make influence your mood, concentration and productivity.
2022 trends are going all about nature in your interiors. Furniture, plants and natural materials are all part of them. But how to put them into your office?  Check some of our inspirations, which can help you pick your favourite interior. If you are looking for natural products in your office pick our natural wooden or bamboo venetian blinds with various sizes and customisation options.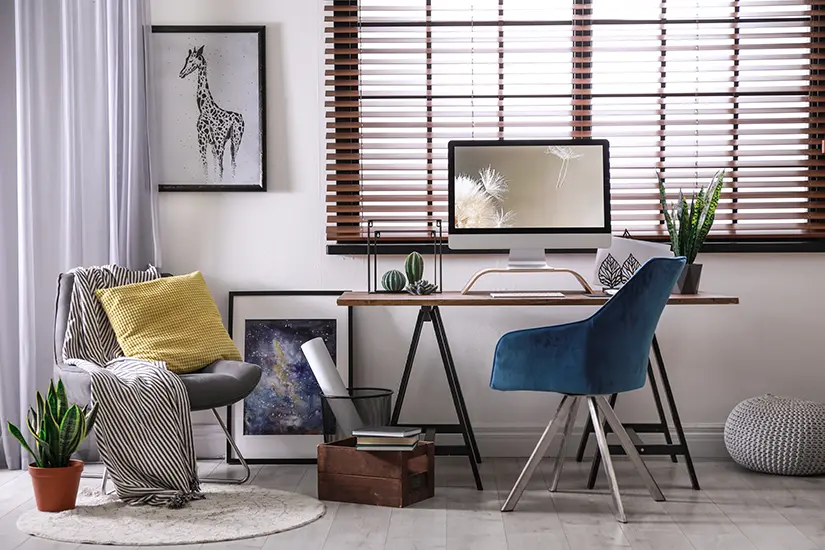 Other window coverings for the office
Looking for other solutions for your office blinds? Let's check blinds that can also be used in your workspace, all of them are available in our shop. Thanks to the reviews, you may be closer to making a final decision about office blinds.
Roller blinds for modern office
Roller blinds are a budget option for office blinds. The easy open/close system makes them popular window covering. Also, the low price makes them a common choice for many interiors. Unfortunately, they don't have slats, so you won't have so many sunlight options control like from venetian blinds.
Roman blinds for modern office
If you are looking for a stylish window covering check roman blinds. Many colours and patterns make them another solution for office blinds. Their main disadvantage will be the same as roller blinds, lack of sunlight control thanks to their open/close system.
Vertical blinds for modern office
Thinking about office blinds? Check vertical blinds, which are modern and timeless window covering for workspace interiors. Before picking them remember, that they are not very durable and they won't fit into smaller windows.
Pleated blinds for modern office
An attractive and stylish solution for your office blinds? Check pleated blinds that are unusual and that is why they are picked for many interiors. Their main disadvantage will be higher price and difficult cleaning.