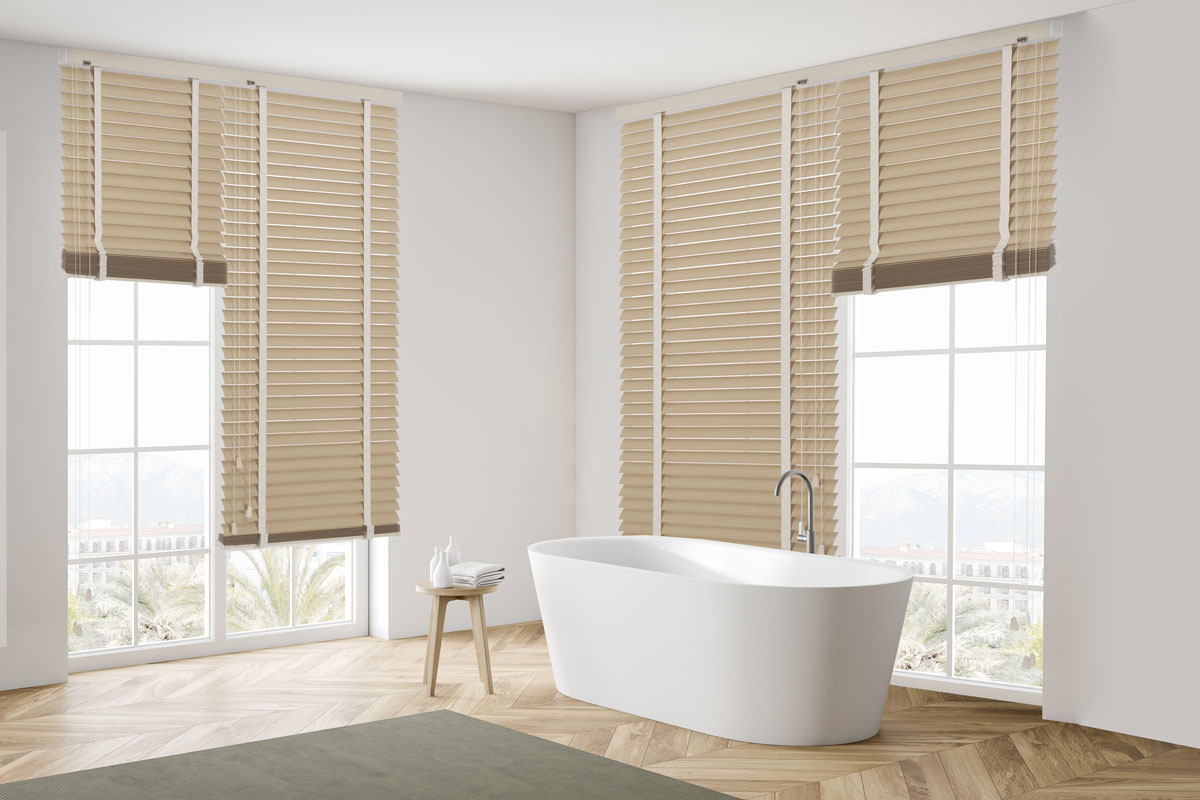 A bathroom is a place where you prepare for a day or relax in a bath after hard work. In bathrooms, windows are very important as they bring natural sunlight and make you feel comfortable. How to control light, have as much privacy as possible and meet all the design requirements at the same time? Check our inspirations and tips for bathroom blinds.
Bathroom is a place of intense water usage for cleaning and bathing, water and steam are a challenge for window coverings
Check our bathroom blinds that are humidity resistant and provide privacy for your bathing space
One of the solutions are venetian blinds which will help with sunlight control, keeping privacy and will meet any design requirements
Venetians most suitable for bathrooms are aluminium and faux-wood blinds. Wooden blinds would not be very durable in a humid environment while bamboo blinds would work well in larger bathrooms with good ventilation
Wooden blinds for modern bathroom
One of the most popular choices for window covering are venetian blinds. That is because they help you easily control sunlight and give warmth to the room. They also maintain privacy, solidness and style. It is important to pick suitable blinds to meet the criteria.
Wooden blinds are one of the trending window coverings. A wide selection of various customization options (slats width – 35mm, 50mm, 65 mm, slat colours, cloth tapes and many others) offers you to configure fully made-to-measure bathroom blinds. The wooden venetian blinds will help you control sunlight as it is up to you how much you want to open or close them. Abachi collection within wooden blinds would give an even more natural and exclusive look – abachi is an African type of wood, great for places with high sun exposure.
They look stylish, but you must remember that real wood is not the best material for humid areas. We do not recommend wooden blinds for humid areas like bathrooms – they would be less durable. Below, we also present products which are way more resistant to humid environments and would be a perfect fit for the interior of your bathroom.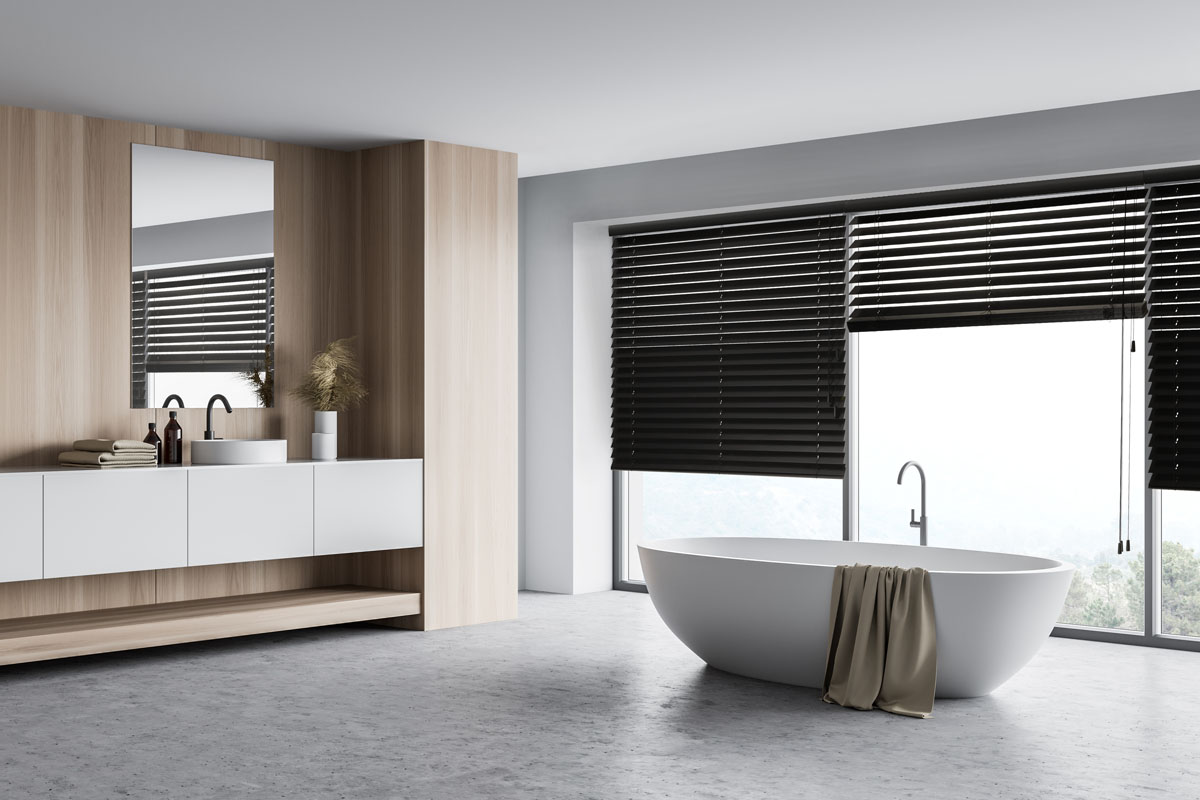 Moisture-resistant, water protection, cheap and solid? Check aluminium blinds, which can be fully custom-made and adjusted specifically to your preferences. Due to extensive customization options and numerous collections (Sunset, Elegance, Retro as well as numerous slat sizes, e.g., 16mm, 25mm, 35mm and 50mm), everyone will be able to design perfect bathroom blinds.
Their advantages are also easy cleaning and resistance in a humid and steamy environment. At the same time, they will still allow for a high degree of sunlight control as other venetian blinds. That is what makes them a very good value-for-money choice for your bathroom windows.
Are you looking for natural materials and light-looking products for your bathroom? Then you have to check our bamboo blinds as they will tick all the boxes. Their main advantage is relatively good moisture resistance. However, we would not recommend bamboo blinds for small and very humid bathrooms. Thanks to numerous customization options, you can configure the perfect window covering for your bathroom. The slats of bamboo blinds are also thin and have a matt finish, making them one of the most attractive types of blinds currently on the market.
Faux-wood blinds are made from PVC slats imitating wood. Thanks to the material used for production (PVC) they are water and moisture-resistant If you are looking for durable and custom-made blinds for your windows you should consider faux-wood collections. We offer many customization options such as adding cloth tapes or side guiding. Faux-wood blinds will be suitable for a humid environment as the slats are made of plastic. Minus of the blinds is that it is heavier than other collections and they do not give a natural look as wooden or bamboo blinds. This all is compensated by their price – they are one of the cheapest collections and are a great value for money.
Aluminium blinds with real wood look almost as good as real wooden venetian blinds. Given the durability of this product, it is a good product for bathroom windows. We offer extensive customization options – you can create blinds that would perfectly fit your bathroom.
Custom-made bathroom blinds
Venetian blinds of course are not the only option for your bathroom window covering. Of course, you can select other options like roller blinds or curtains, but they will not have the same sunlight and privacy control as venetian blinds. You also have to consider the material used for the production of roller blinds, curtains or vertical blinds. They are made from fabrics therefore they are not waterproof when compared to bamboo, aluminium or faux-wood horizontal blinds.
Additionally, fabric products can be a source of mould and require additional care which may be time-consuming. What's important about venetian blinds is their customization options, from different slat sizes to numerous extra features. You can select additions such as cloth tapes, valance or different mounting systems to your order – it makes the final product unique.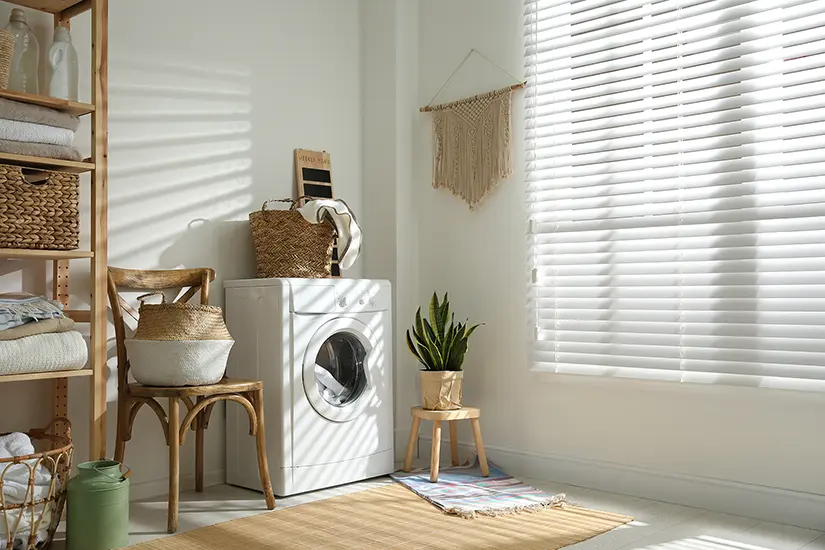 Blinds sizes
Are you looking for blinds fitting perfectly your windows? ClickforBlinds will help you with its various products and collections. Need a blind for a small or narrow window? No problem, pick wooden, bamboo, aluminium or PVC blinds with wide customisation options such as slats width (popular are 35mm, 50mm, 65mm, other sizes also available), adding cloth tapes or valance and many more features. Also, owners of big windows will find something suitable. We can produce 360 cm in width for wooden blinds, and nearly 300 cm in width for bamboo blinds. ClickforBlinds is the home of blinds, come and check out the offer!
Advantages and disadvantages of various bathroom blinds
Type

Advantages

Disadvantages

Advantages of venetian blinds

Wooden

· Natural design

· Perfect addition to many interiors (modern, Scandinavian)

· One of the most popular window coverings

· Slats do not overheat

· They work best in dry and well-ventilated environments;

· Not suitable for bathroom and humid environment

· Sunlight control

· Easy to maintain

· Privacy control

Aluminium

· Very good water and moisture resistance

· Great value for money

· Blinds made of artificial material

Bamboo

· Relatively good water and moisture resistance vs wooden blinds

· Natural material

· Matt finish

· Great for modern interiors

· Not great for very humid areas and small bathrooms

Faux-wood

· PVC slats with natural design, similar to wooden blinds

· Durable material

· Great value for money

· Cannot mimic real wood in 100%

Wood-effect

· Aluminium made with natural design

· Durable material

· Great value for money

· Do not look as natural and exclusive as real wood
Modern bathroom blinds – tips, trends and inspirations
How to pick the right bathroom blinds for your interior? Everything depends on your needs, but we want to present some trends and inspirations. There are several examples of popular solutions for the bathroom on photos in the article. Don't worry! If you like one of the blinds in the photos but you would like to change for example colour, add cloth tape or change slats width – it is all possible when configuring your blinds.
Our products are custom-made so you can fully adjust them to your needs and the design of your home. You can also order samples in advance to check the colour and structure of the blind slats before purchasing.
This would ensure the blinds are a perfect fit for your interior. Remember – window coverings are an important part of the interior finish – and you can be sure that horizontal blinds will look great in your bathroom, regardless of the interior style.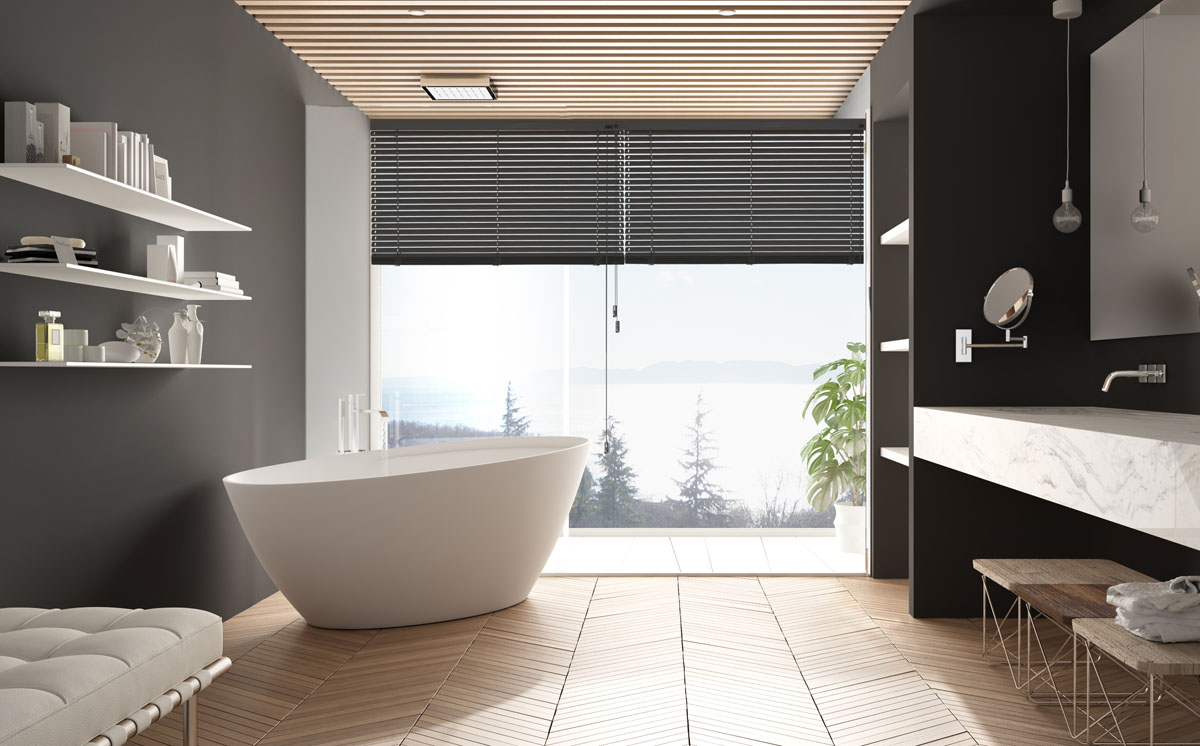 Other window coverings for the bathroom
Venetian blinds are not the only option for windows – you can also select other solutions for your bathroom. Reviewing other options will help you make a final decision. Let's check some of them – you can also find them on our website.
Roman blinds
Are you looking for an alternative to window blinds while maintaining a premium look? Pick roman blinds but remember, this is not a perfect solution for all rooms and windows. They will work very well in bigger, well-ventilated rooms. Humid bathrooms are not a good place for roman blinds as fabrics may absorb humidity causing damage to the blind.
Vertical blinds
Vertical blinds are a popular choice for big windows. That's why you can see them in living rooms or offices. Their big disadvantage is problems with adjusting them into smaller windows. They are also made of fabric which makes them exposed to a humid environment, so we don't recommend them for bathrooms.
Roller blinds
One of the most common picks for many rooms are roller blinds. They are a budget product. If you want them as your bathroom blinds, don't forget that they are not suitable for very tight windows and they are not good for humid areas. Their look is also inferior to venetian blinds while lack of moisture resistance makes them not durable and prone to damage.
Pleated blinds
Style and very easy open/close system? Pleated blinds are the perfect choice if you are looking for these two features. It is important to remember the properties of their material. Most pleated blinds are not a durable solution for bathrooms as the fabrics are not humid resistant.